How to access on Fynd Platform
Platform Panel
Sales Channel (select application)
Marketing
Blogs
Introduction​
This section is to create, write and manage blogs. User can develop blogs using an inbuilt text editor. Moreover, this comes fully-featured so that one can add images, tables, media files and code samples too.
Main Screen​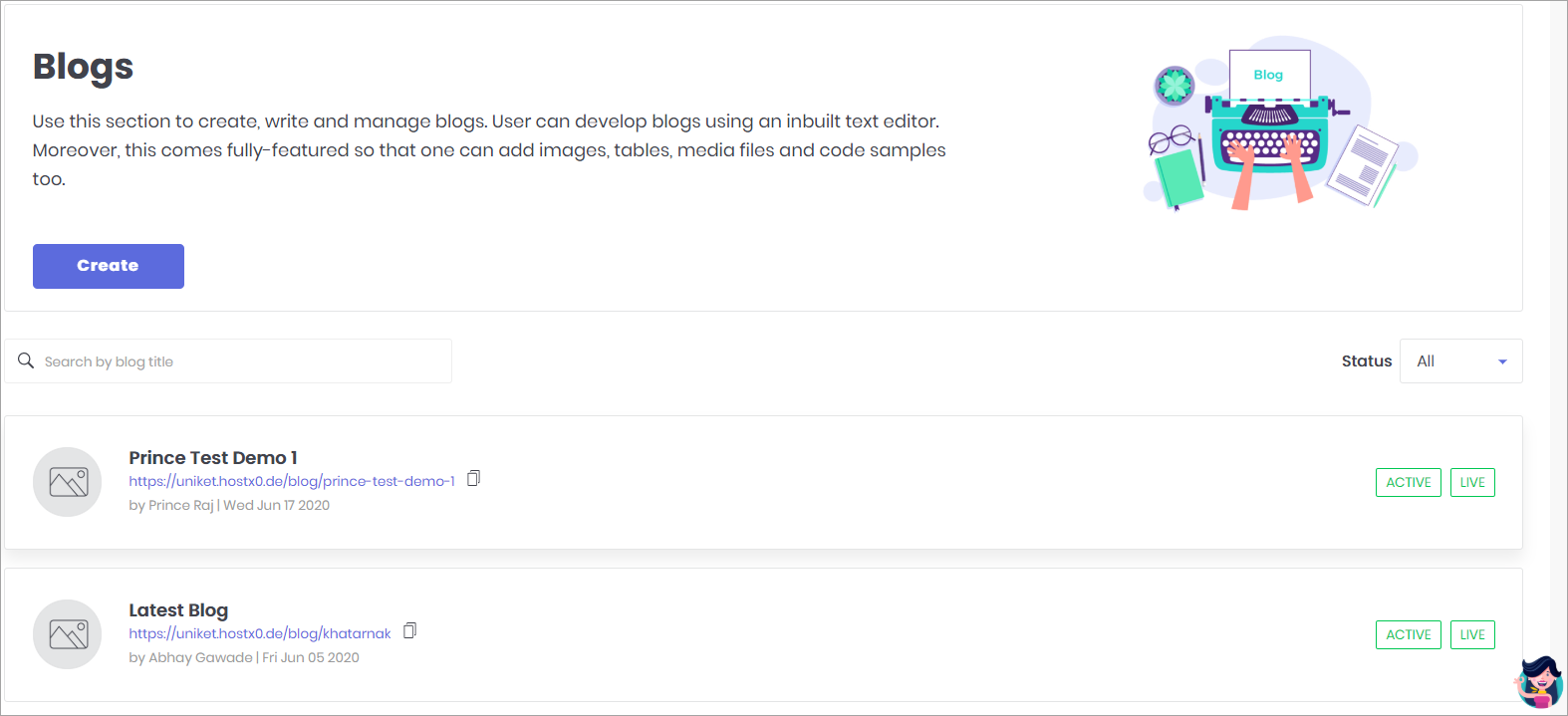 Figure 1: Blogs - Main Screen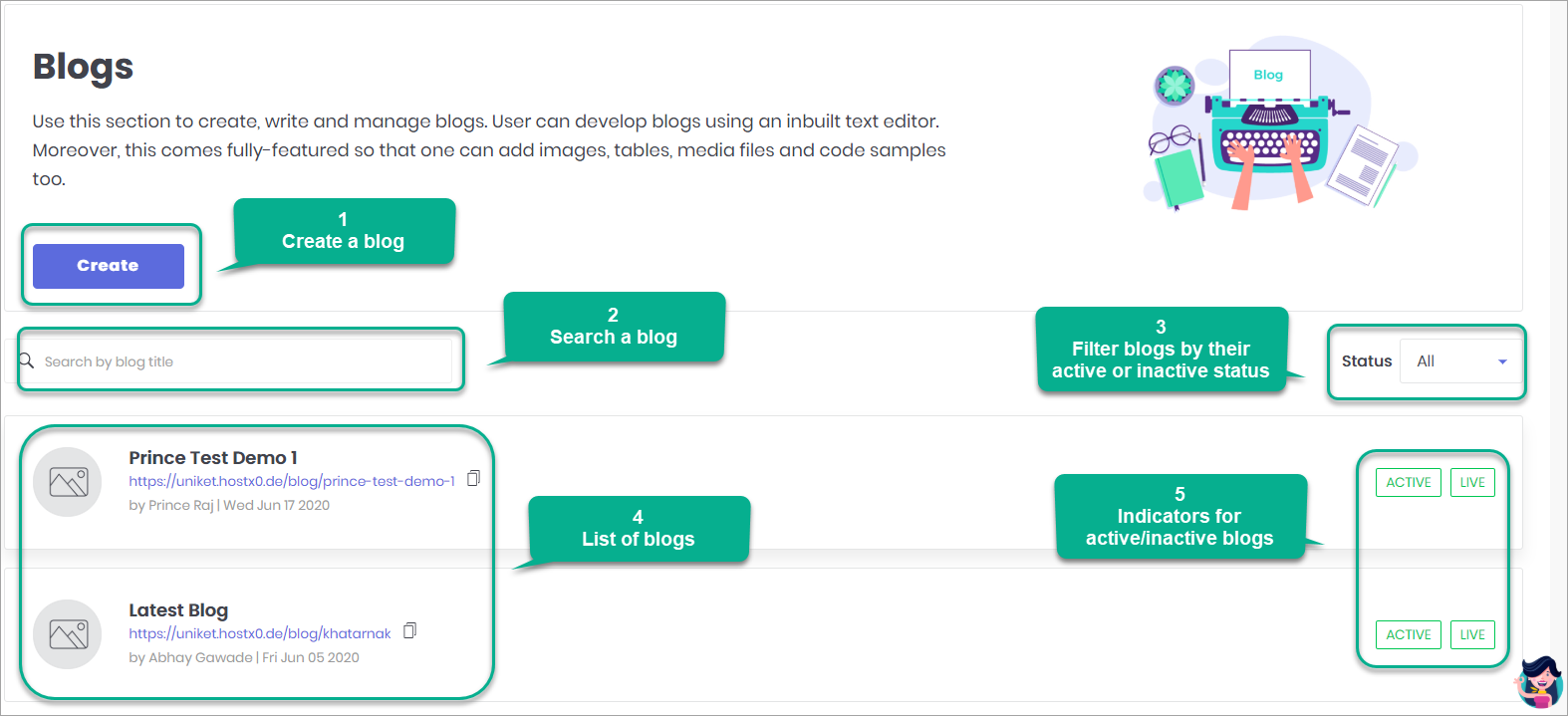 Figure 2: Blogs - Main Screen Intro
In this document, you will learn more about:
---
Creating a blog​
Click on Create (refer fig. 1).

A fully-featured text processor is available as shown below. All the necessary tools and components required for creating an attractive blog are readily available in this editor.

Figure 3: Editor



Let's create a sample blog similar to this one.

Figure 4: Blog Heading




Figure 5: Blog Subtitle




Figure 6: Image Upload




Figure 7: Image Uploader




Figure 8: Paragraph




Figure 9: Second Paragraph




Figure 10: Insert Link




Figure 11: Insert Link Popup




Fill the Details section.

Figure 12: Details




Preview and Publish

Figure 13: Preview




Figure 14: Publish




After clicking on Create, you can optionally choose to schedule this blog to be made Live, or you can publish it straight away by clicking Save.

Figure 15: Schedule



---
Adding SEO Information​
Fynd Platform allows you to add SEO information to every blog you create. Add a title and description that should be visible in the search engine results when people search for your blog. Alternatively, you can use AI-powered (Artificial Intelligence) Generate or Generate Using Custom Keyword options to create title and description automatically.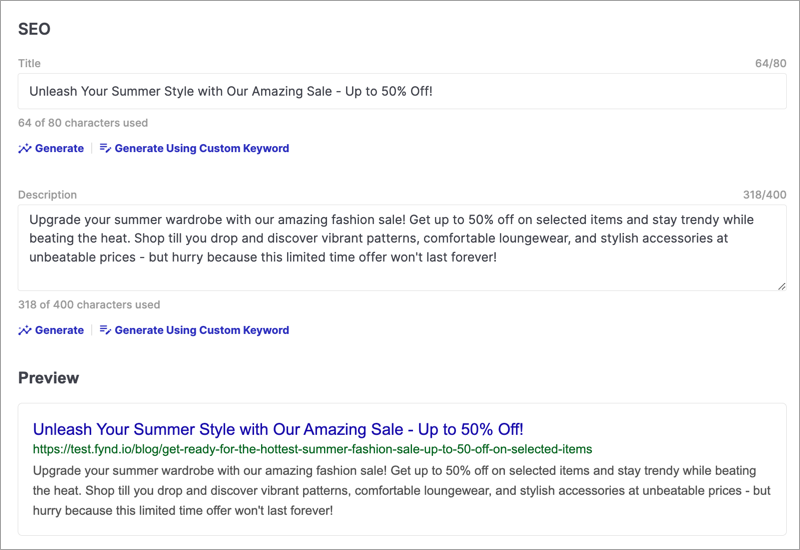 Figure 16: Editing Website SEO
tip
No matter how long the title and description is, search engines will show only upto 50-60 characters of the title, and 155-160 characters of the description in the search results. Therefore, you should consider adding the most relevant keywords in the beginning.