Creating and Publishing Public Extension
You are reading an outdated document
What are Public Extensions?​
These are extensions that you create for a large number of merchants. Your extension is published on the marketplace.
Since public extensions are open to the masses, it goes through an approval process after you create them. Fynd will check whether the extension meets the standard guidelines, following which it will be published on the marketplace.
---
Creating a Public Extension​
Log in to your Fynd Partners account, go to the Extensions section and click on Create Extension.

Figure 1: Fynd Partner Panel




Choose the Public Extension option.

Figure 2: Choosing Public Extension




Give a name to the extension along with its description and logo.

Figure 3: Entering The Details




Paste the public URL (generated using ngrock), and enter the developer's email ID.

Figure 4: Entering The Details




Choose a Launch Location for your extension. Depending on its purpose, you can launch an extension at a company-level, application-level, or as a marketplace.

Figure 5: Choosing The Launch Location




Also, give permission to access the necessary APIs that the extension would require.

Figure 6a: Granting Company-level Permissions




Figure 6b: Granting Application-level Permissions




Next, click Create to save the configuration.
---
Publishing Your Extension​
On the Extensions page, click the extension you created.

Figure 7: Your Extension




Click on Submit for review

Figure 8a: Submitting For Review




...or click the kebab menu (⋮) and click on Publish.

Figure 8b: Submitting For Review




Describe your extension in as much detail as possible.

Figure 9a: Adding Details For Marketplace




Figure 9b: Adding Details For Marketplace




Add the features of your extension. This will help the merchants know what the extension has to offer.

Figure 10: Including A List Of Features




Add snapshots of the functionality of your extension. You include Desktop and Mobile screens whichever is applicable.

Figure 11a: Adding Desktop Screens




Figure 11b: Adding Mobile Screens




You can create different pricing plans for your extension:

Free to install - Only one free plan.
Recurring charge - You may create multiple plans, free or paid, monthly or annually.
One Time charge - Only one paid plan for lifetime.

Figure 12: Creating A Pricing Plan




After filling all the details:

You can preview how the extension is going to look on marketplace
Save as draft
Submit for review
---
Once you submit the extension, it will undergo a review process.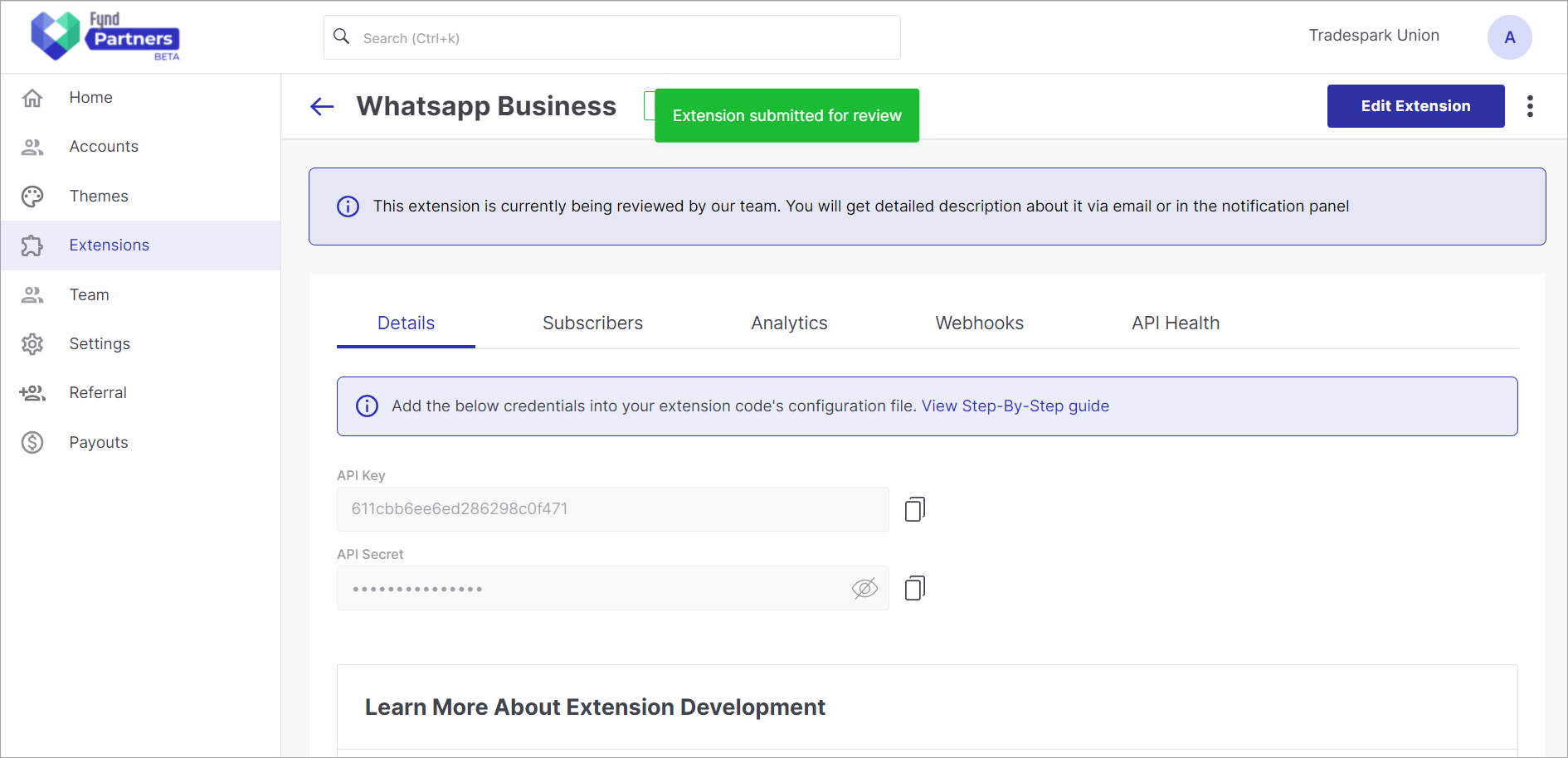 Figure 13: Installing Your Extension
note
If your submission is rejected, you can check the page (shown above) to know the reason. Following that, you can fix the issue and resubmit the extension.
If approved, your app will be published on the marketplace on the link: https://partners.fynd.com/extensions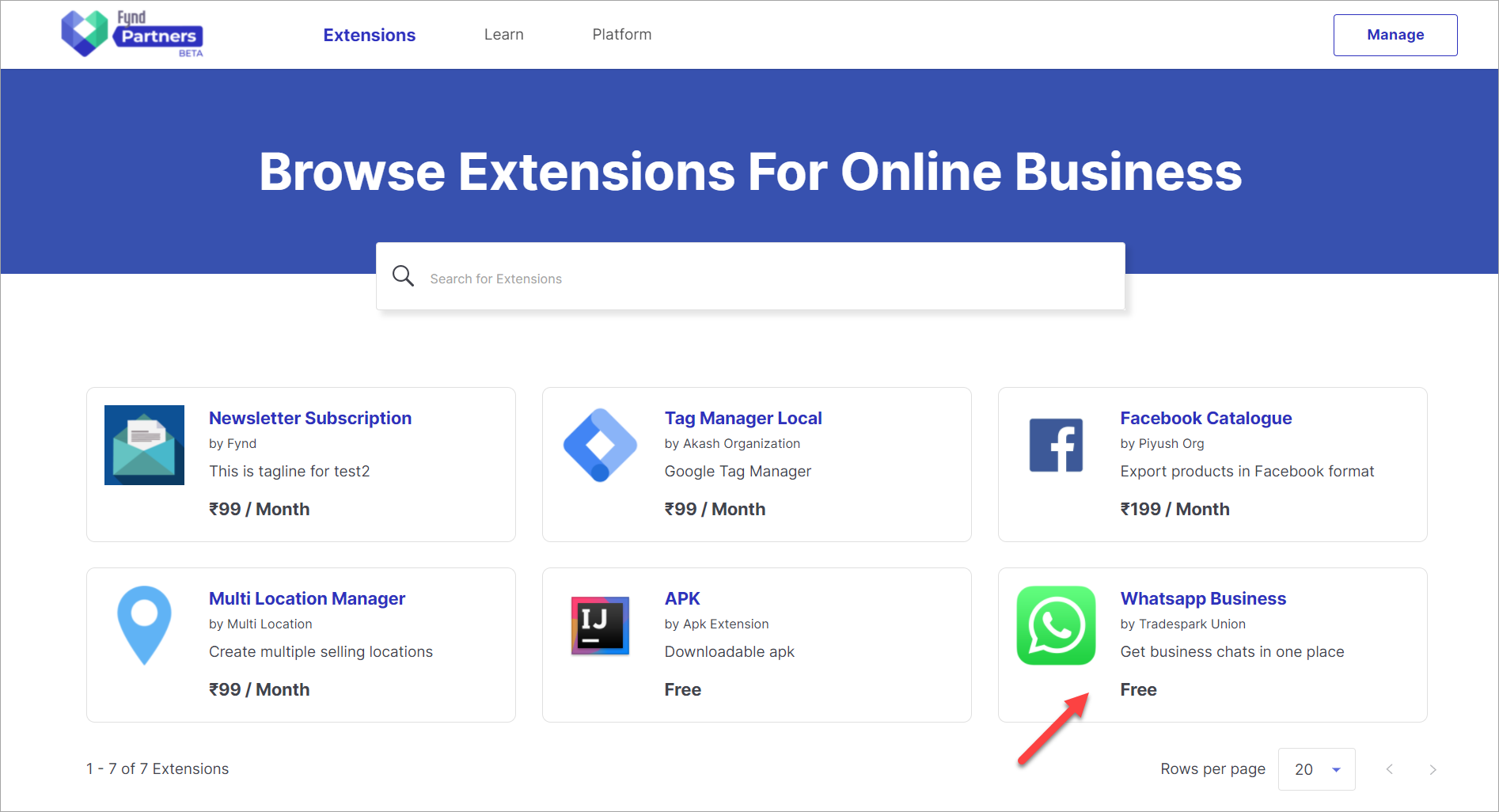 Figure 14: Installing Your Extension
Any merchant can go the Extension section of their Fynd Platform account and click on Explore to view all the public extensions.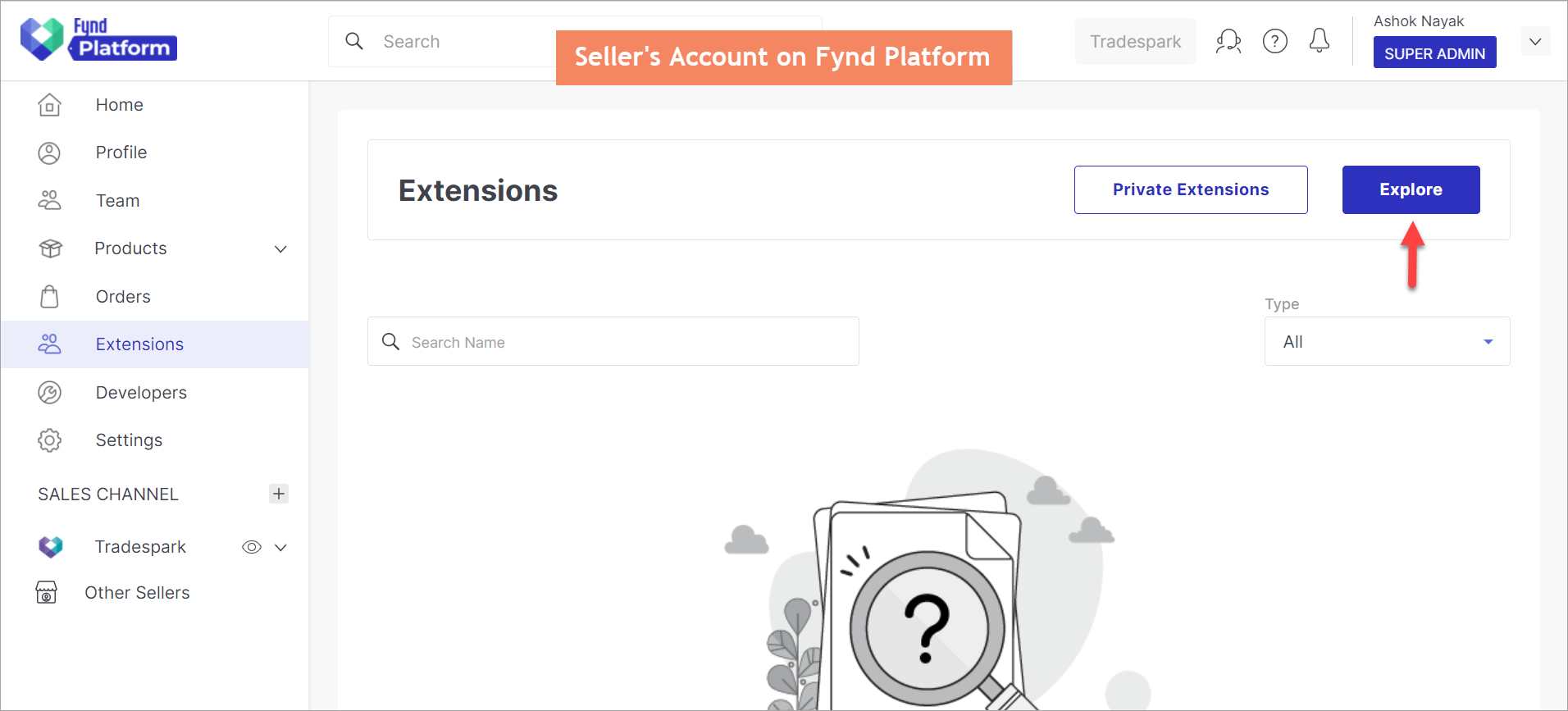 Figure 15: Seller's Extension Page
Interested merchants can click on your extension and install it.
Figure 16: Seller's Extension Page