You are reading an outdated document
This document is for developers, agencies, and freelancers who wish to assist Fynd Platform merchants in building their business by creating extensions.
What is Fynd Platform Extension?​
An extension is a piece of software that offers additional features on top of the existing ones. Merchants are the end-user of Fynd Platform; therefore, any additional requirements from merchants can be created independently. Such a piece of software can be installed or uninstalled as and when required.
The purpose of creating extensions is to create delightful shopping experience for the customers, and at the same time, to improve the seller experience. The developer of the extension can make it access the company data and sales channel information if required.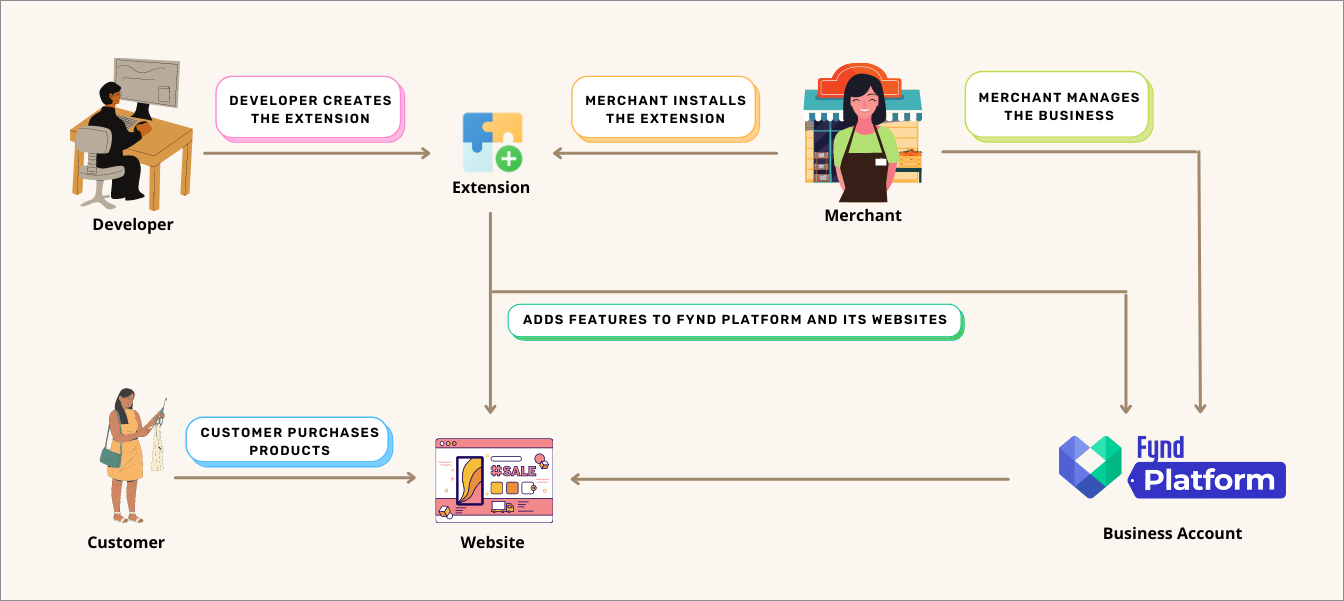 ---
Relation of Extensions with Fynd Platform​
Extensions can do the following actions:
Consume Fynd Platform APIs to read and write the data of the sales channel
Add new features and functionalities to the Fynd Platform account
Enhance the display of information for the customers
Fynd Platform Panel - After creating a business account on Fynd Platform, the merchant can set up a team, create a website, upload catalogue, and manage the entire business using the Fynd Platform Panel. It is on Fynd Platform Panel where merchants can explore and install desired extensions.
Online Sales Channel/Website - Merchants who wish to sell online need to create a website. Customers visiting the website will browse the products, and purchase if required.
As a developer, you can launch extensions at a company-level, application-level, or as a separate marketplace.