How to access on Fynd Platform
Platform Panel
Products
All products
Export (Product)
Introduction​
Once you create products on Fynd Platform, it is available for downloading and reusing in future. This means you don't have to create products from scratch for editing or updating your existing products.
Besides, you don't have to pile up product files on your PC because you can use the Export button to do so.
Video: Fynd Platform - How To Export Products
---
Steps​
Go to the Products section in Fynd Platform, and click Export.

Figure 1: Export Button




Click Product.

Figure 2: Choosing Product Export




Choose the product type (mandatory)

Standard - For getting standalone products, e.g. shoes.
Set - For getting set products (e.g. pack of 4 shoes).
Composite - For getting products whose inventory and shipment are handled in parts, e.g. sofa.
Digital - For getting non-physical products or services, e.g. warranty.

Figure 3: Choosing Product Type




Choose the template (mandatory), e.g. topwear, bottomwear, etc. to get the products belonging to a specific template.

Figure 4: Choosing Template




info

The dropdown will not contain all the templates supported by the platform. Only those templates whose products you have created on the platform will be visible in the dropdown. The number of product files generated (within the zip file) will be equal to the number of templates you have chosen (assuming you have chosen only 1 product type).

(Optional) Choose the brand(s) to get only those products belonging to the selected brand(s).

Figure 5: Choosing Brand




(Optional) You can choose to apply additional filters. Click More Filters.

Figure 6: More Filters




Some filters will be the same as you selected in the previous steps. Modified Date is an additional filter that helps you narrow down the results further. It will generate only those products whose details were modified during the said date range.

Figure 7: Modified Date Filter




Depending on the products existing in your account, it might take some time to export the products. You may choose to receive an automated email notification to your registered email address whenever the file is ready for download.

Figure 8: Opting For Email Notification




You can also choose the file format (either Excel or CSV) in which you want the product data.

Figure 9a: Selecting File Format




After the export process finishes, it will show SUCCESS as the status.

Figure 9b: Export Completed




A download link will be available after a successful export process. Click the icon to download the zip file.

Figure 10: Downloading Zip File




Extract the zip file to get all the files. As mentioned in step 4, the number of files in the zip file depends on the number of templates you chose earlier. Here we have only one file, i.e. topwear.

Figure 11: Files (within the extracted zip file)




Open the file to view the products' data.

Figure 12: Exported Product File



---
Extras​
Clicking on a batch history will give you the details of that batch, including the filters you selected for exporting products.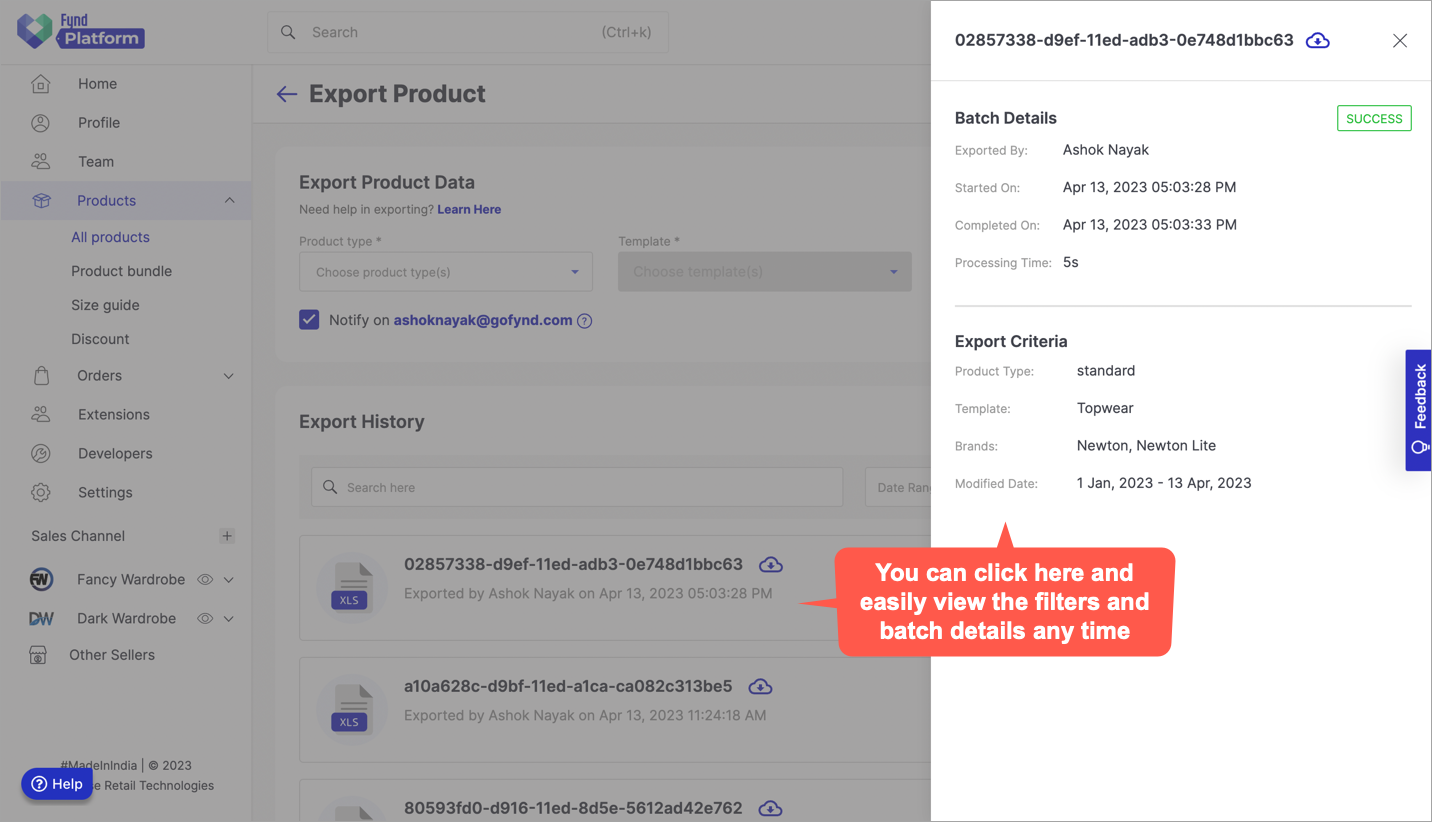 Figure 13: Batch Details
If you opted to be notified via email, you'll receive an email as soon as the batch job is complete.
Figure 14: Email Notification
Searchbar and other filters such as Date Range and Status help you easily find your exported products in the history.