Using Qwikcilver Extension
Qwikcilver Gift extension enables easy use of Qwikcilver gift cards for your user's purchases. Users can redeem the card's value, except for a nominal 1 rupee, which can be paid using another payment method. This feature ensures a seamless and flexible shopping experience.
---
Steps to use Qwikcilver Extension​
Go to Extensions in Fynd Platform.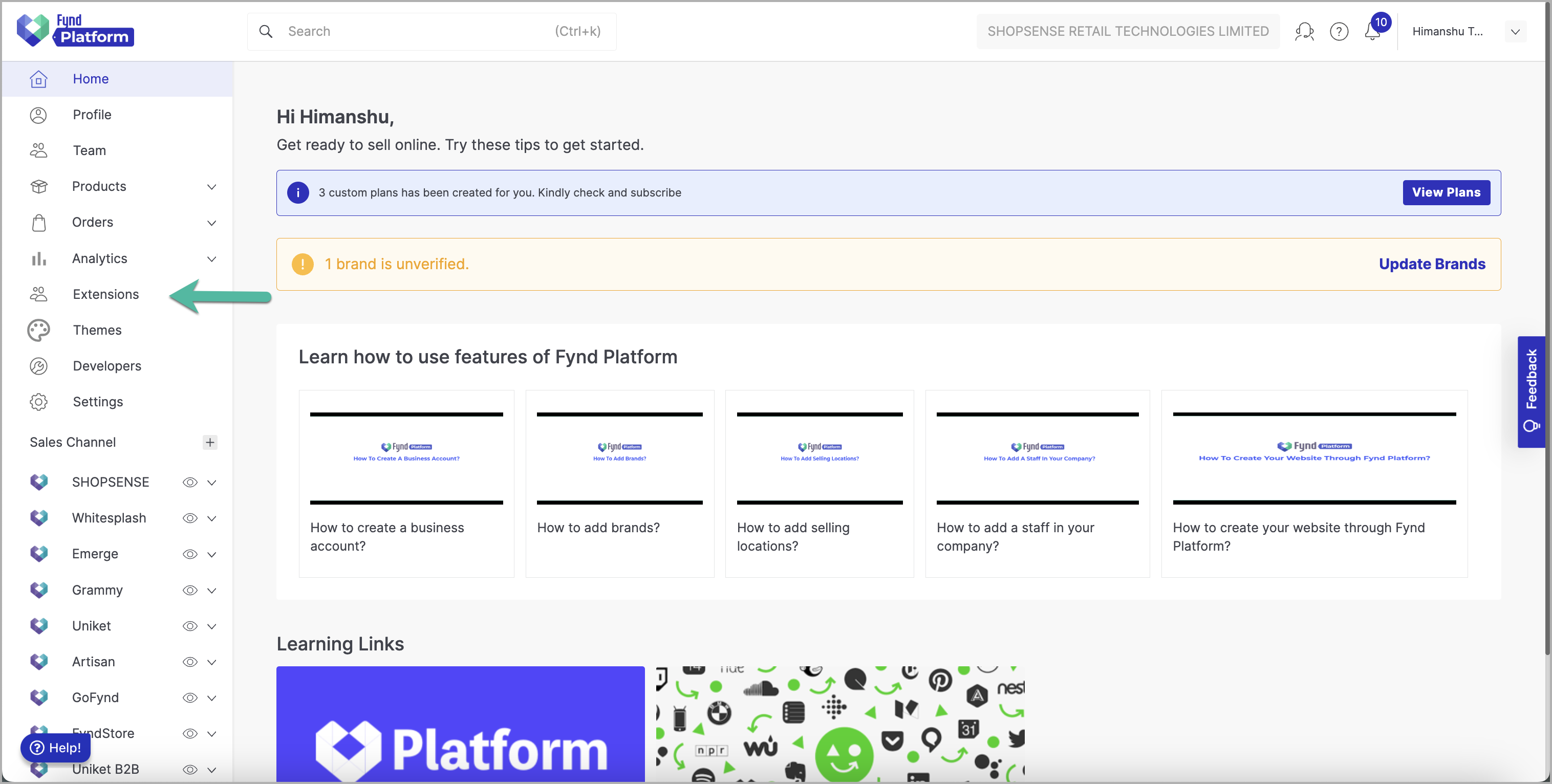 Figure 1: Clicking Extensions
Click Qwikcilver.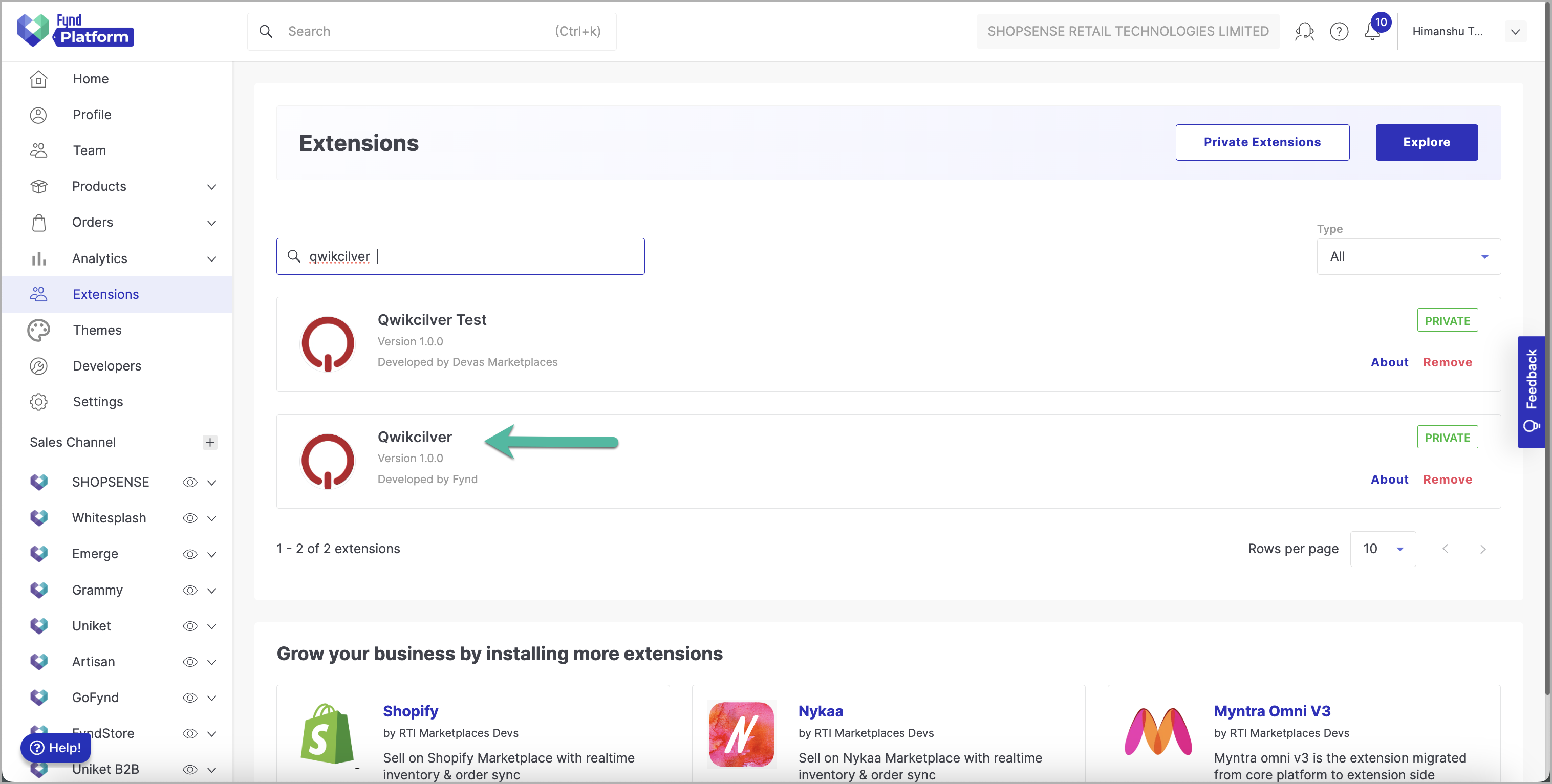 Figure 2: Clicking Qwikcilver
note
Once you have installed this extension, it will be available in the list here.
Select desired sales channel. Here, we have selected SHOPSENSE.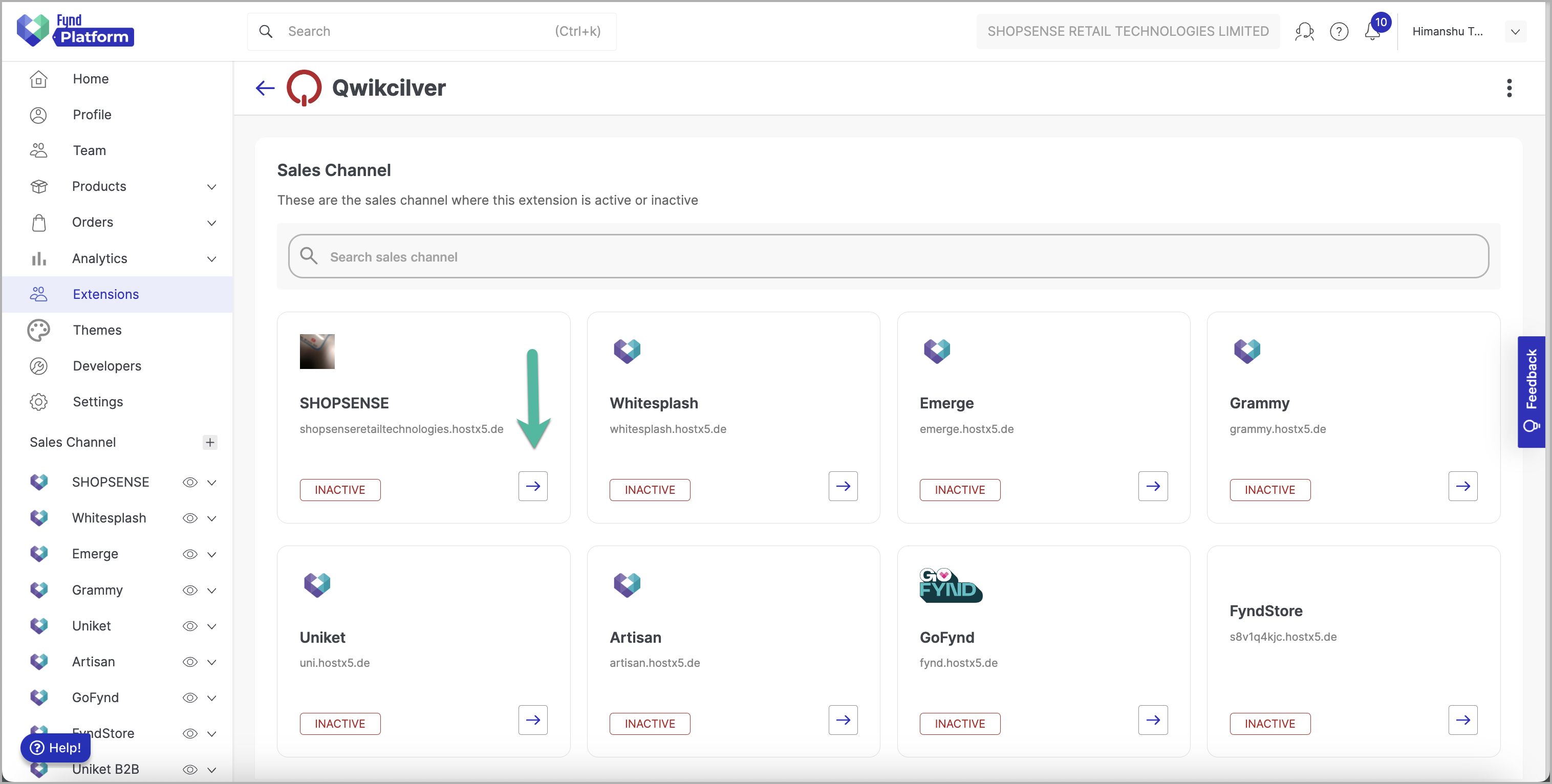 Figure 3: Selecting Sales Channel
Configuration​
Settings​
Click Settings.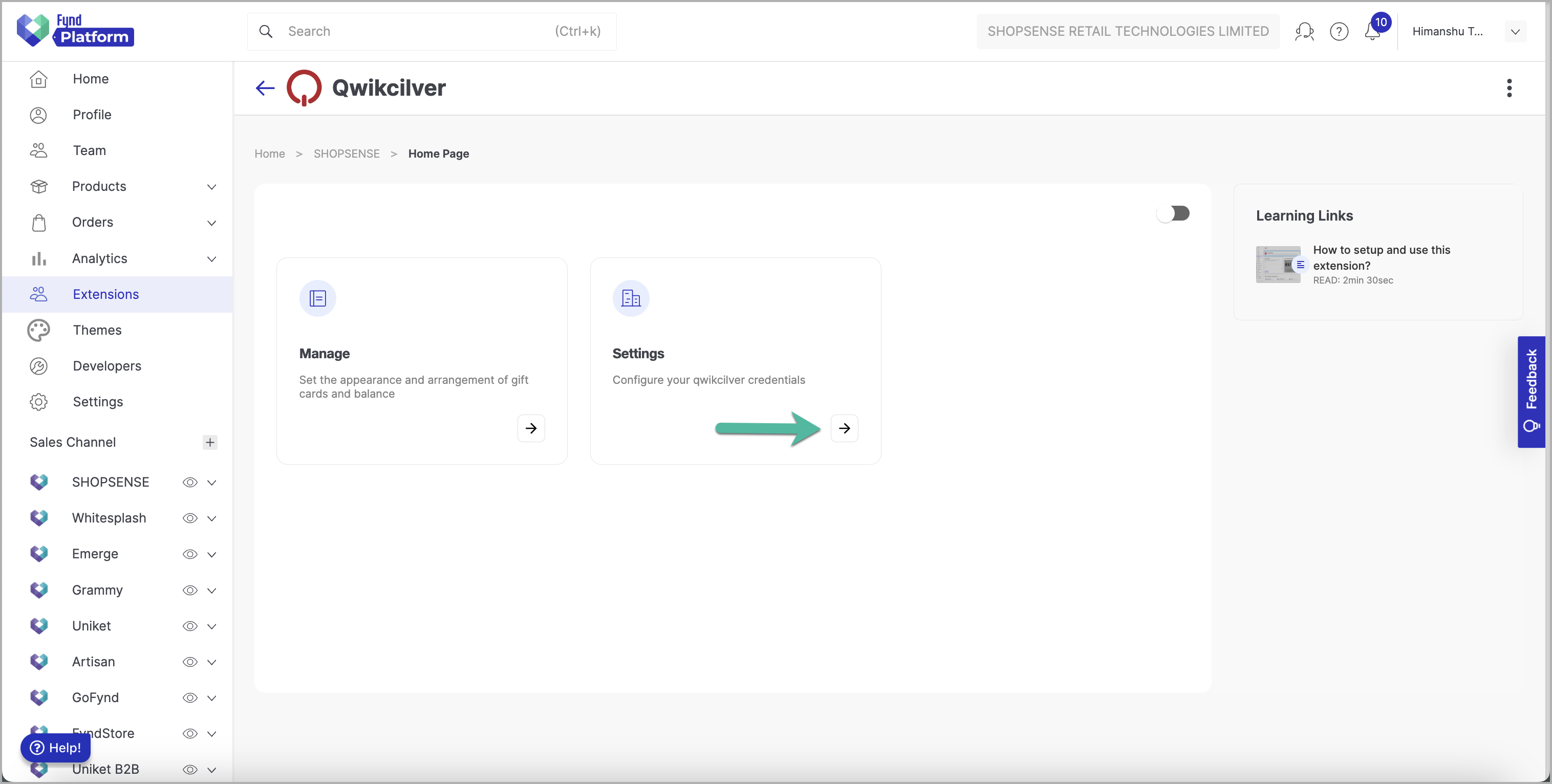 Figure 4: Clicking Settings
Enter Terminal ID, Username and Password. These details are provided by Qwikcilver.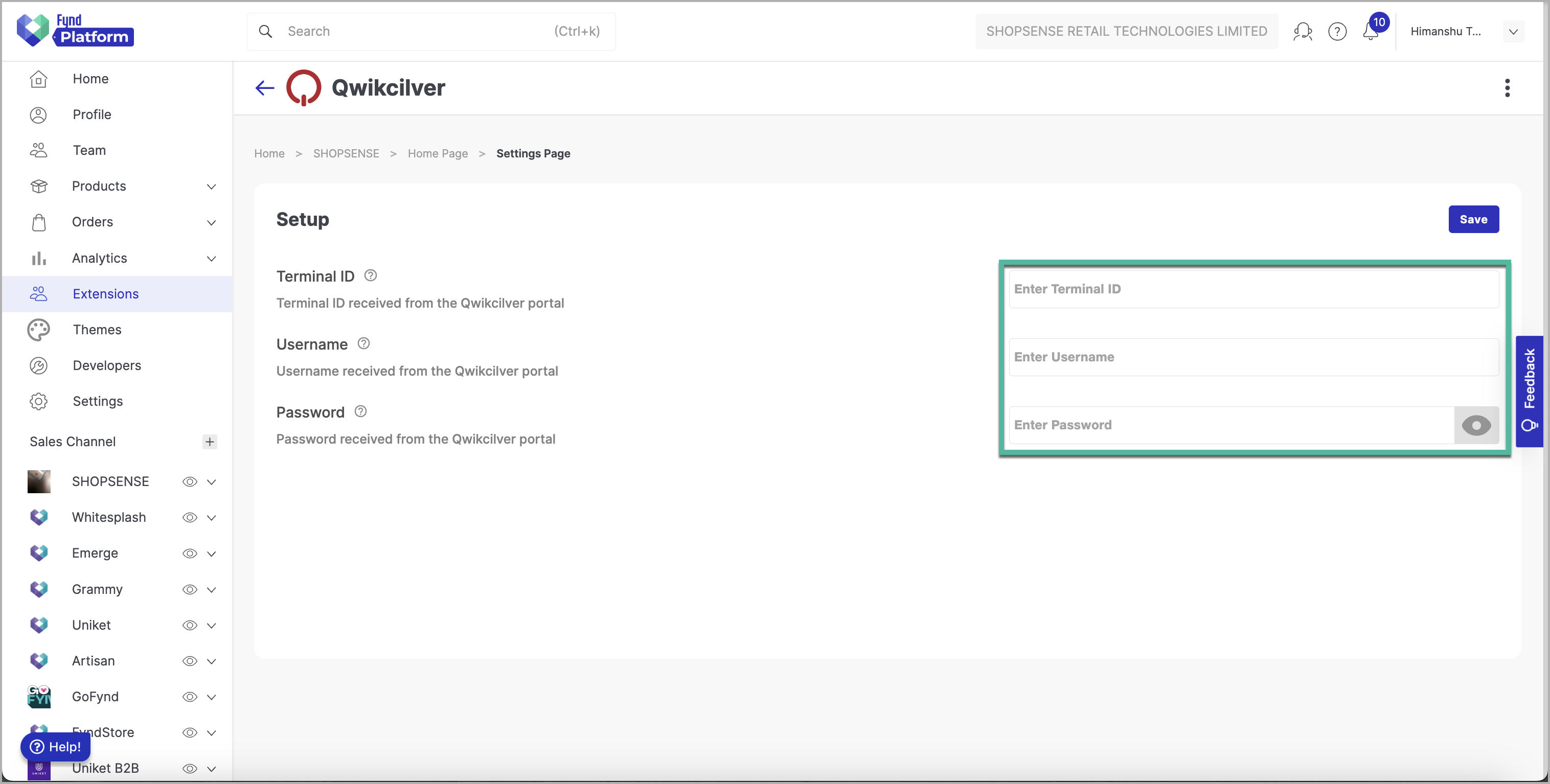 Figure 5: Selling Location
Click Save.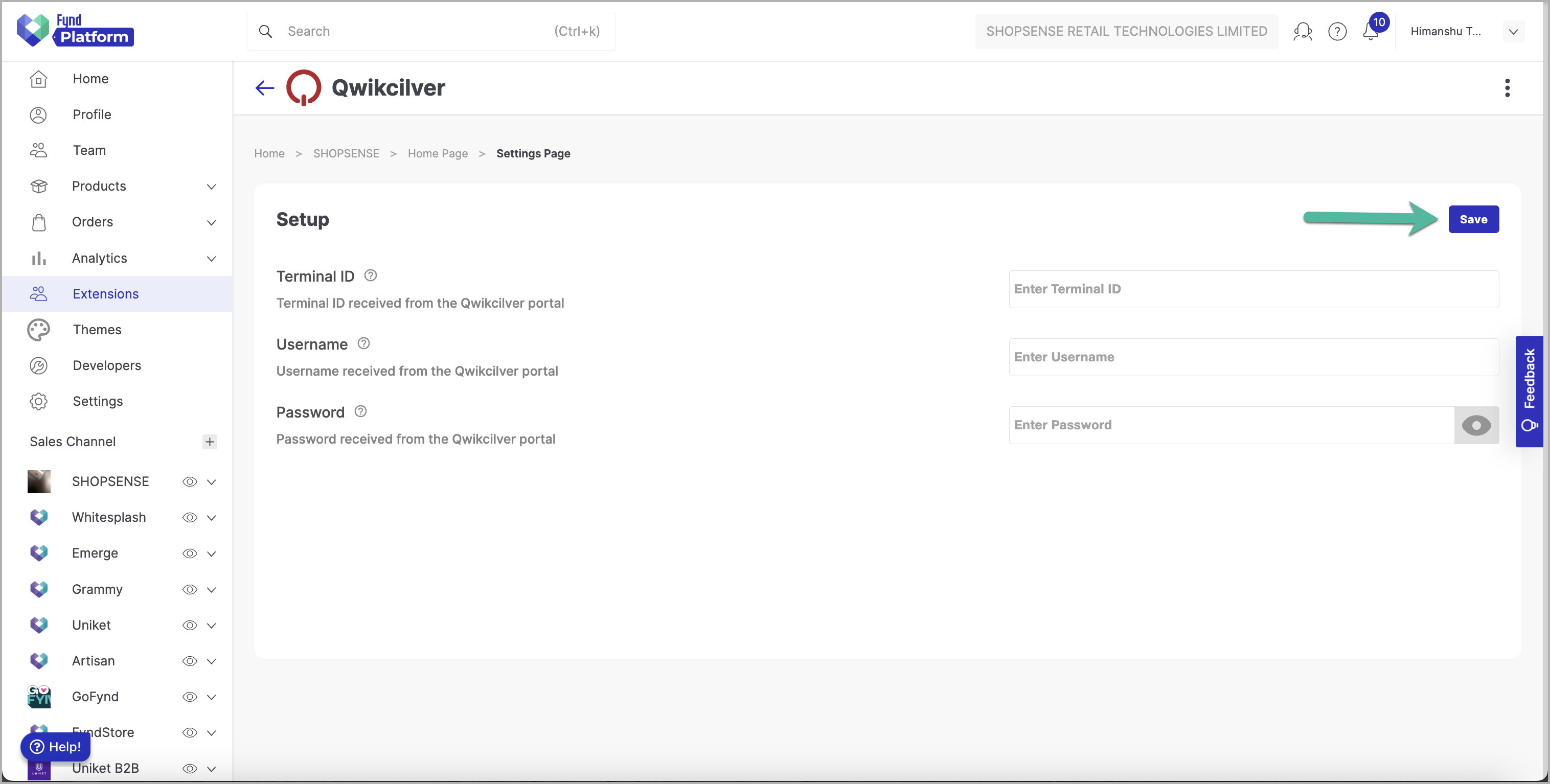 Figure 6: Qwikcilver Settings
Manage​
Click Manage.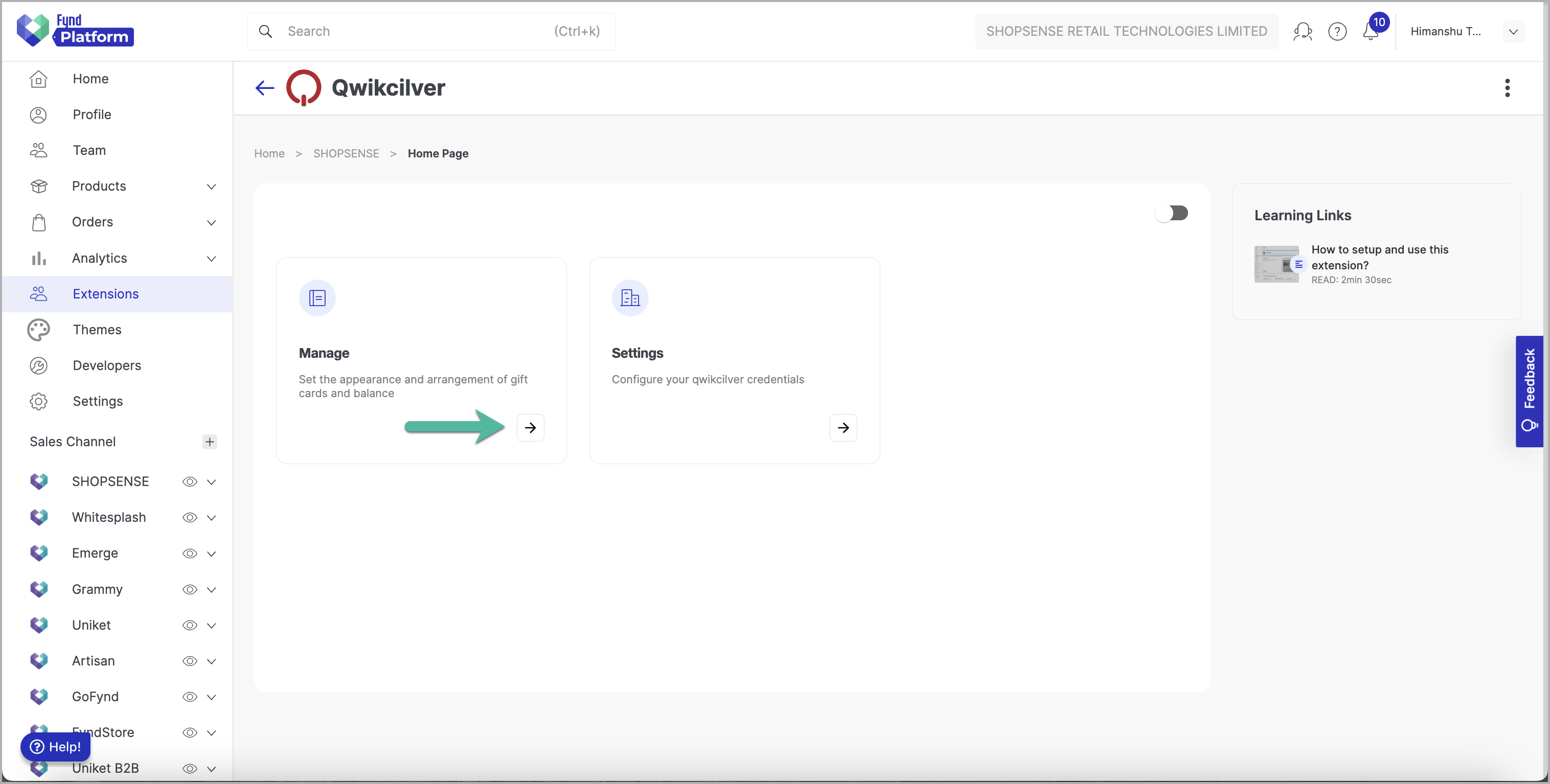 Figure 7: Clicking Manage
Enable Gift Card Redemption option in the cart.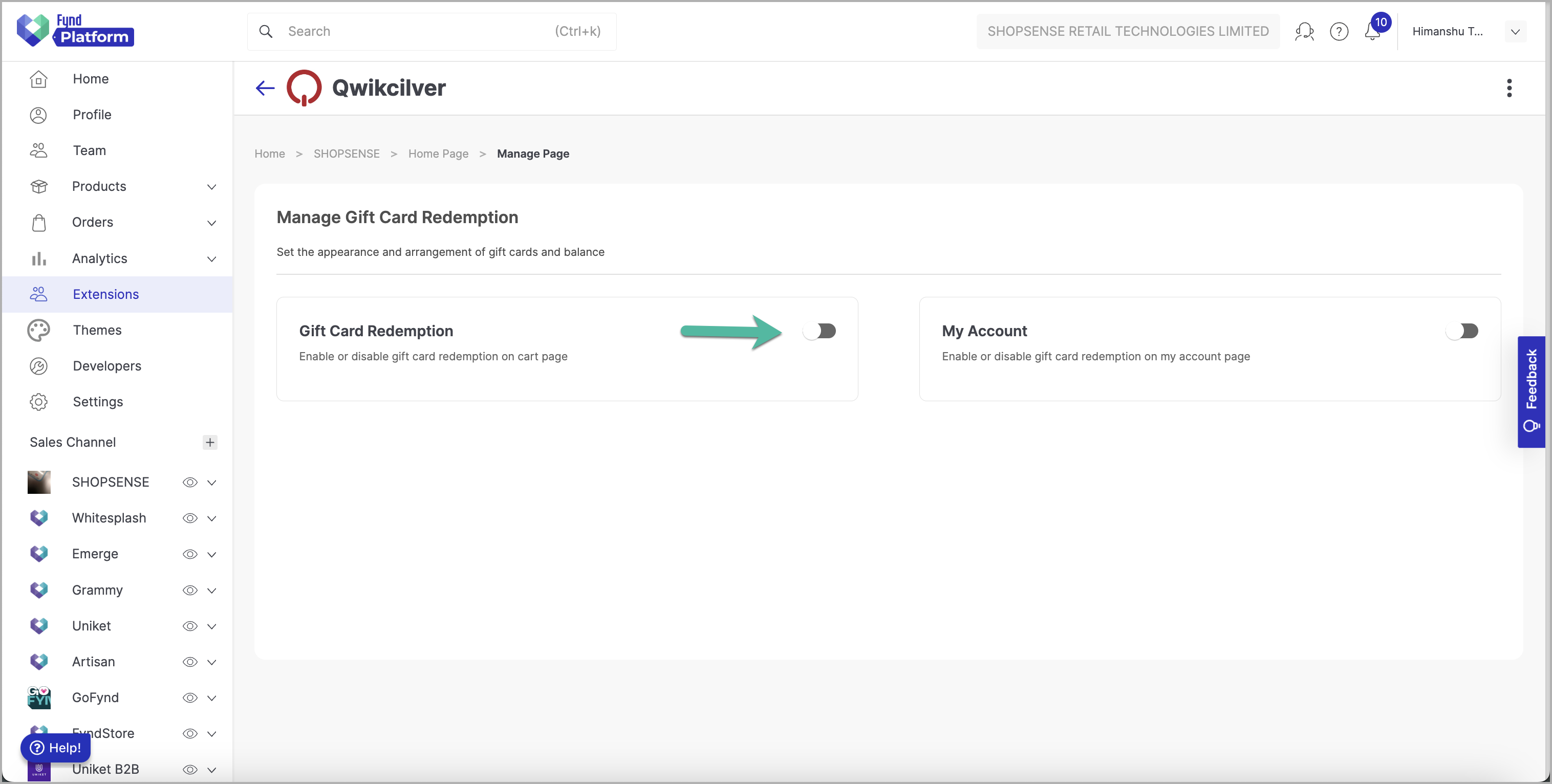 Figure 8: Enabling Gift Card Redemption
Enable My Account option.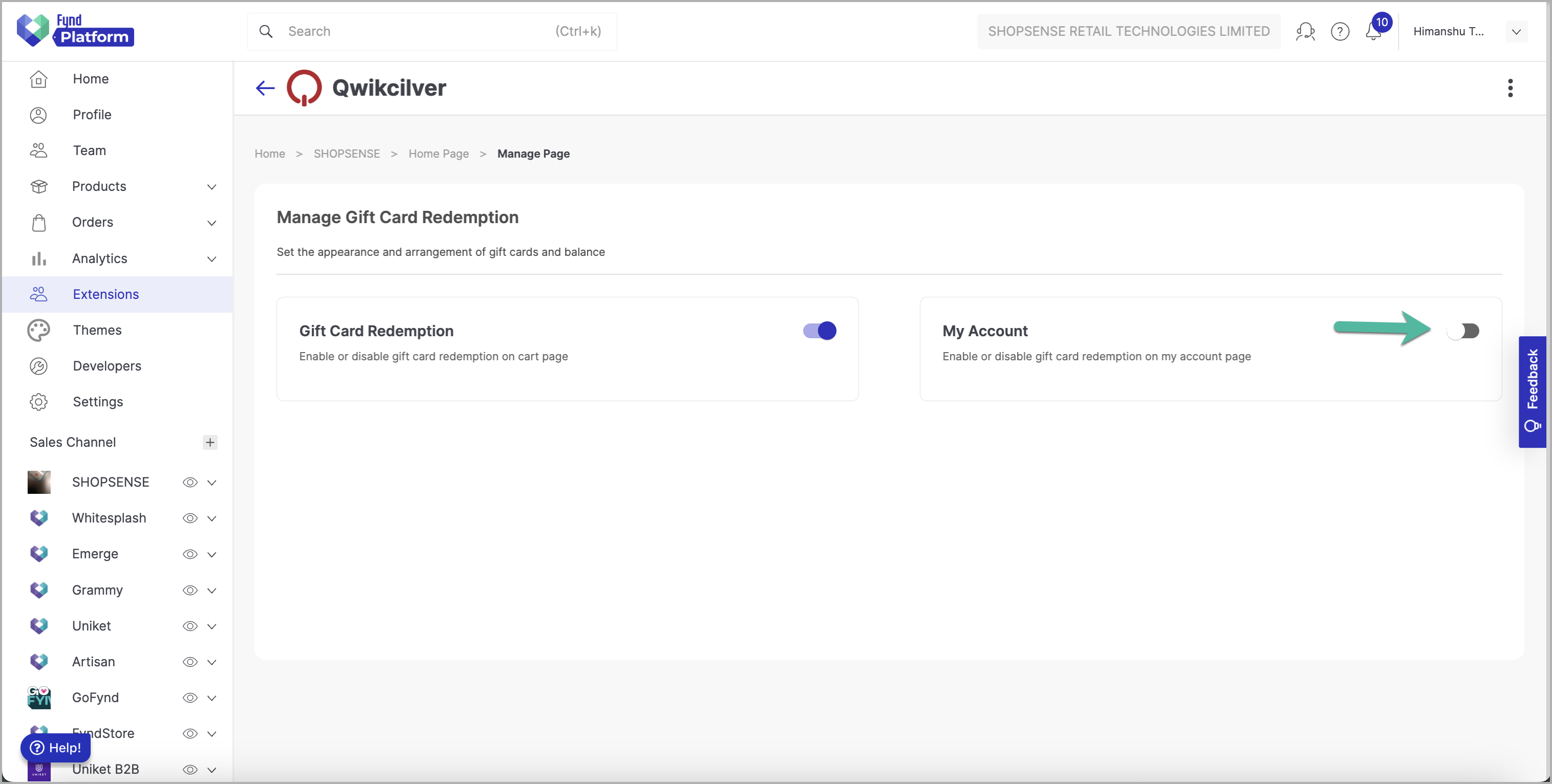 Figure 9a: Enabling My Account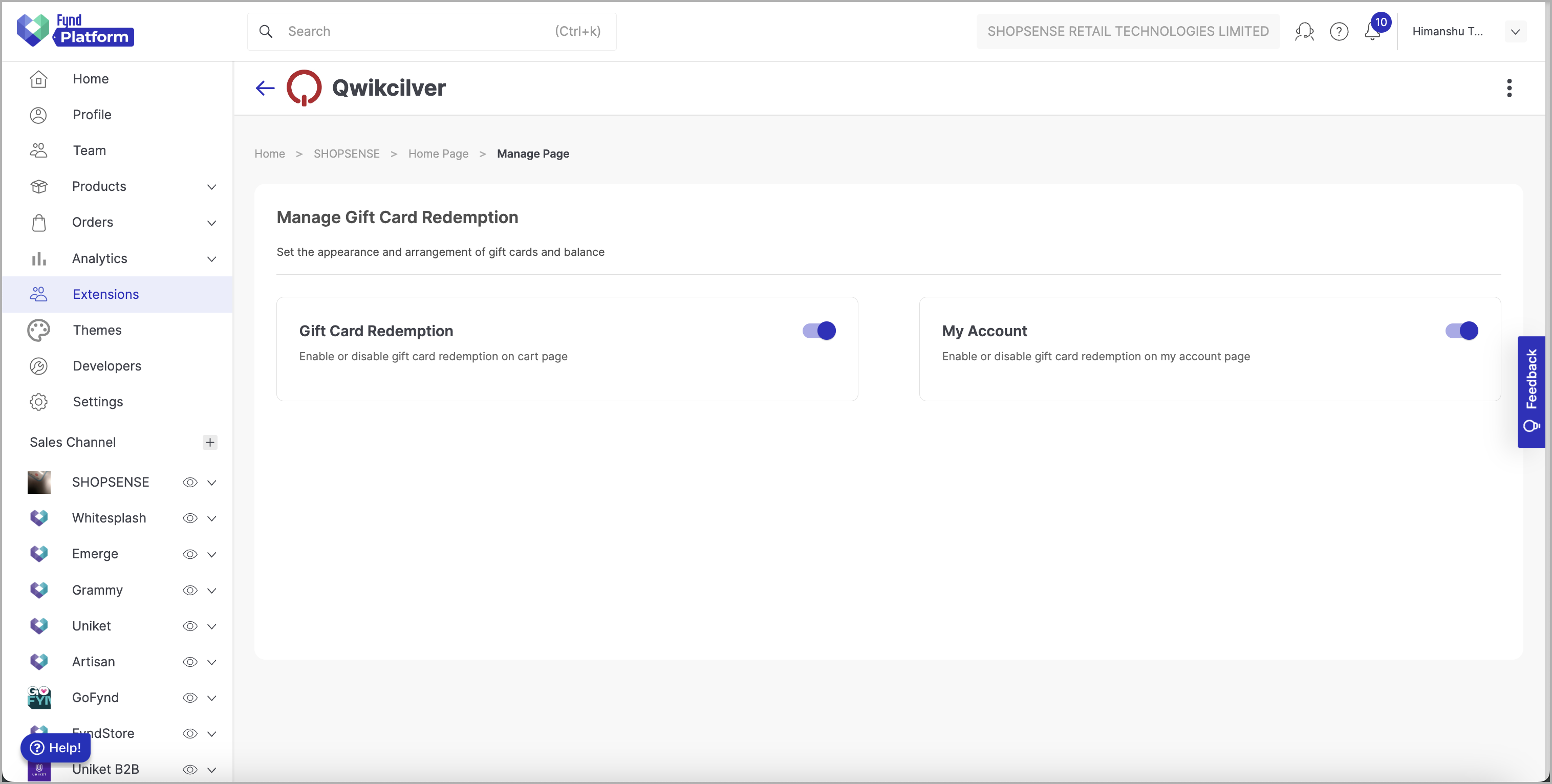 Figure 9b: Options Enabled
Adding Qwikcilver Extension in Theme​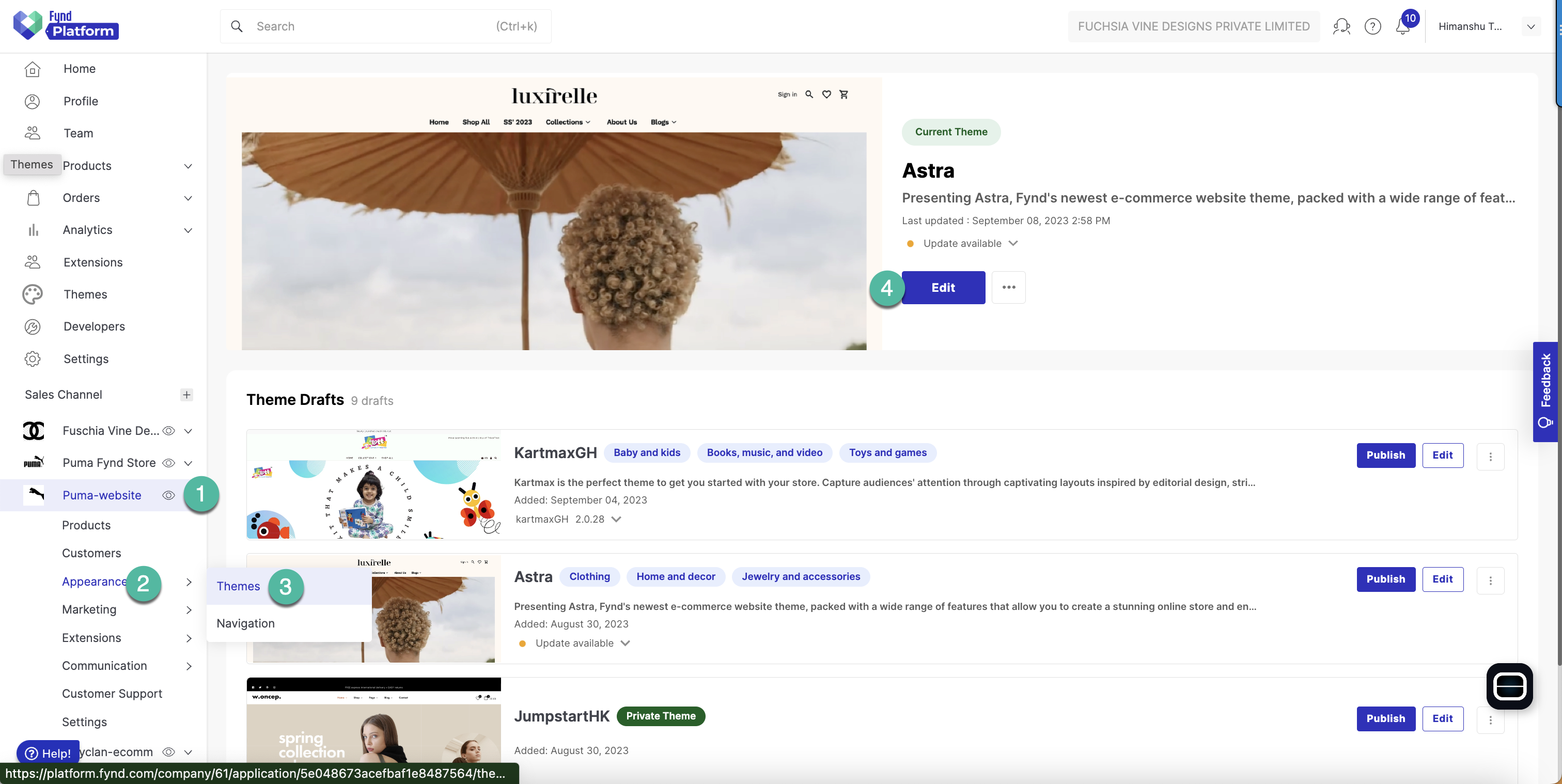 Figure 10: Going to Theme Editor
Go to Sales Channel.
Click Appearance.
Click Theme.
Click Edit. Theme editor will appear.
Add a product to the cart in the theme editor.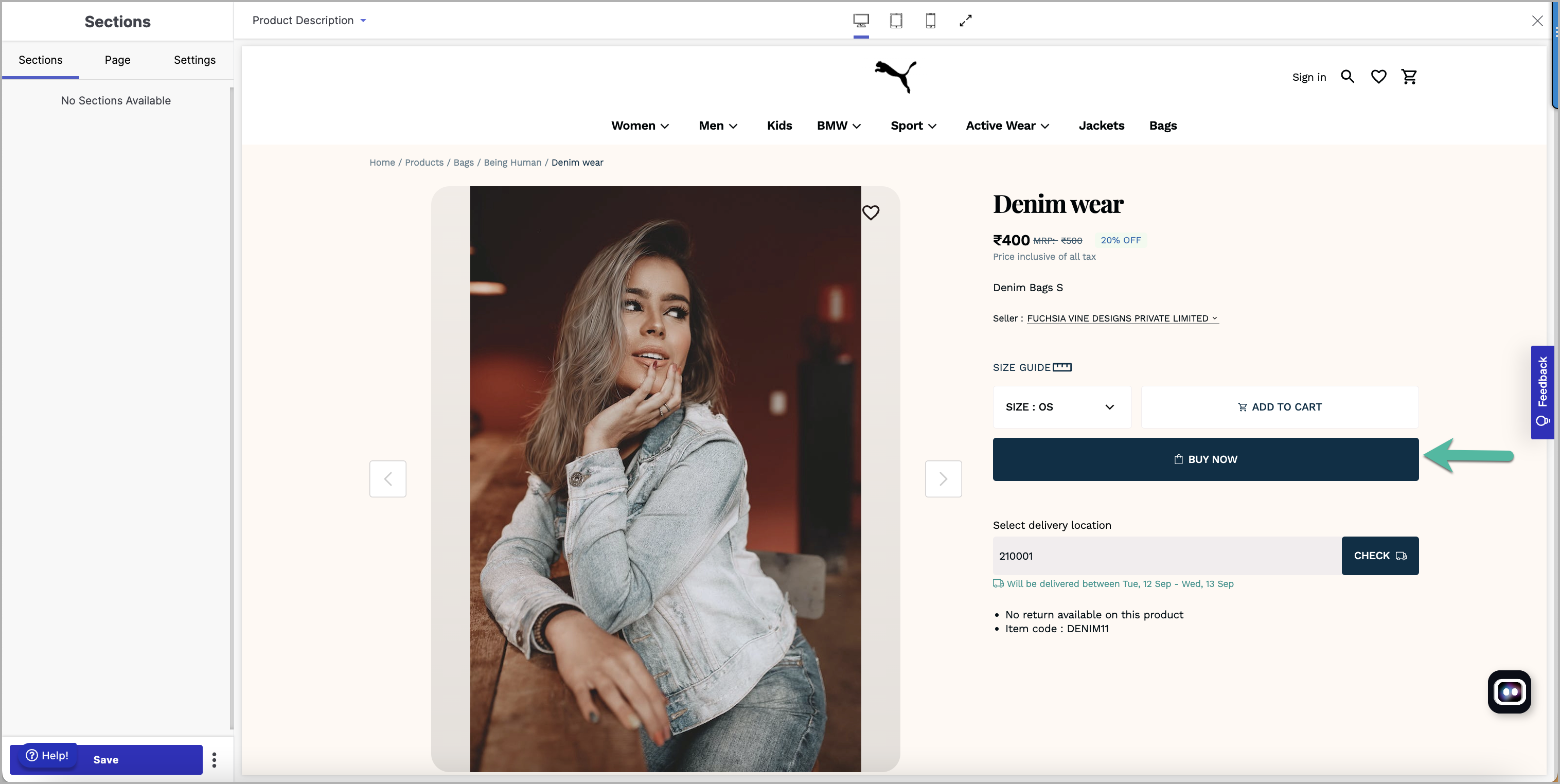 Figure 11: Click Buy Now
Enter Delivery Address and proceed.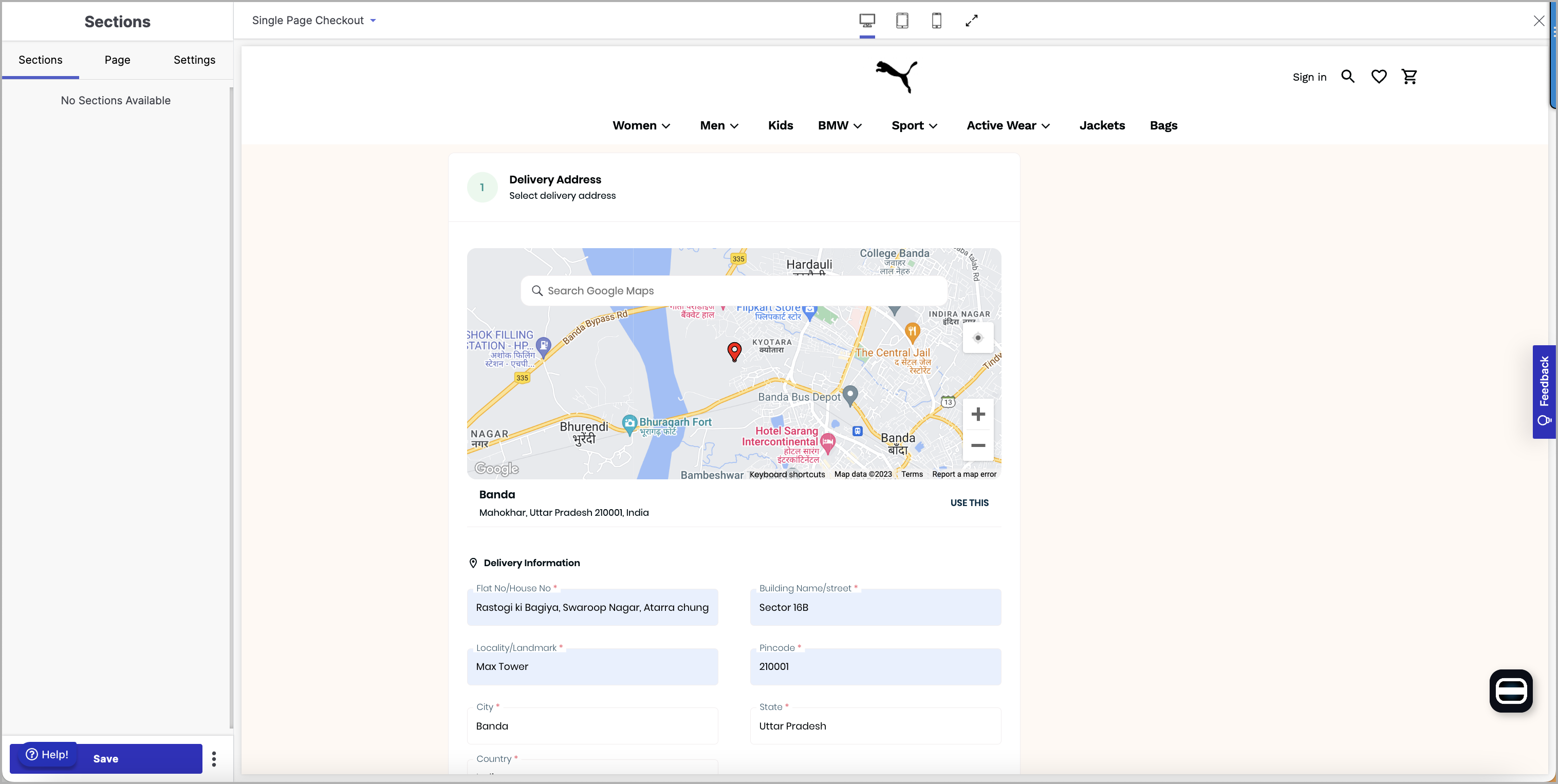 Figure 12: Entering Address
Click PROCEED TO PAY.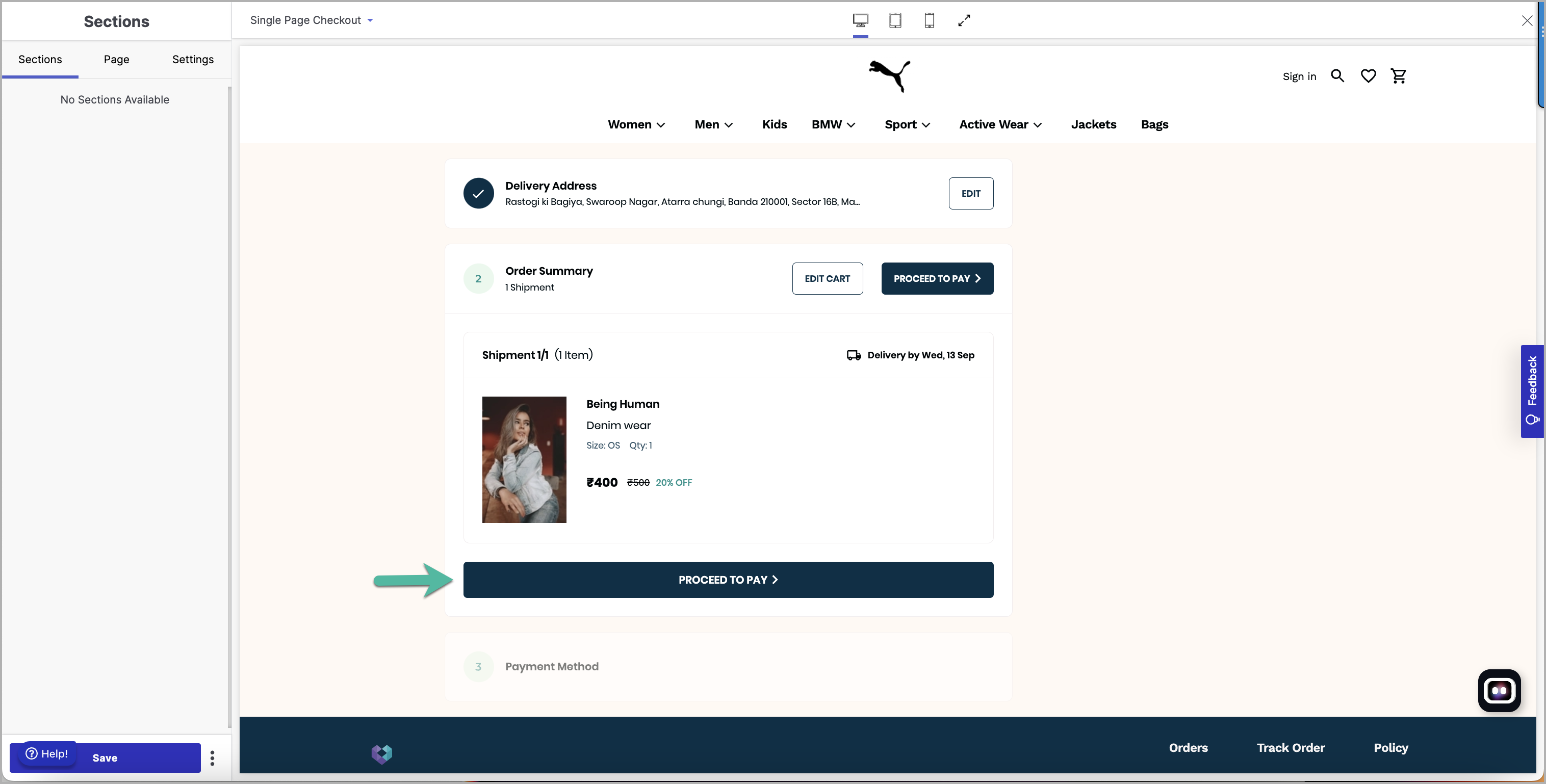 Figure 13: Click Proceed Button
Single Page Checkout page will appear.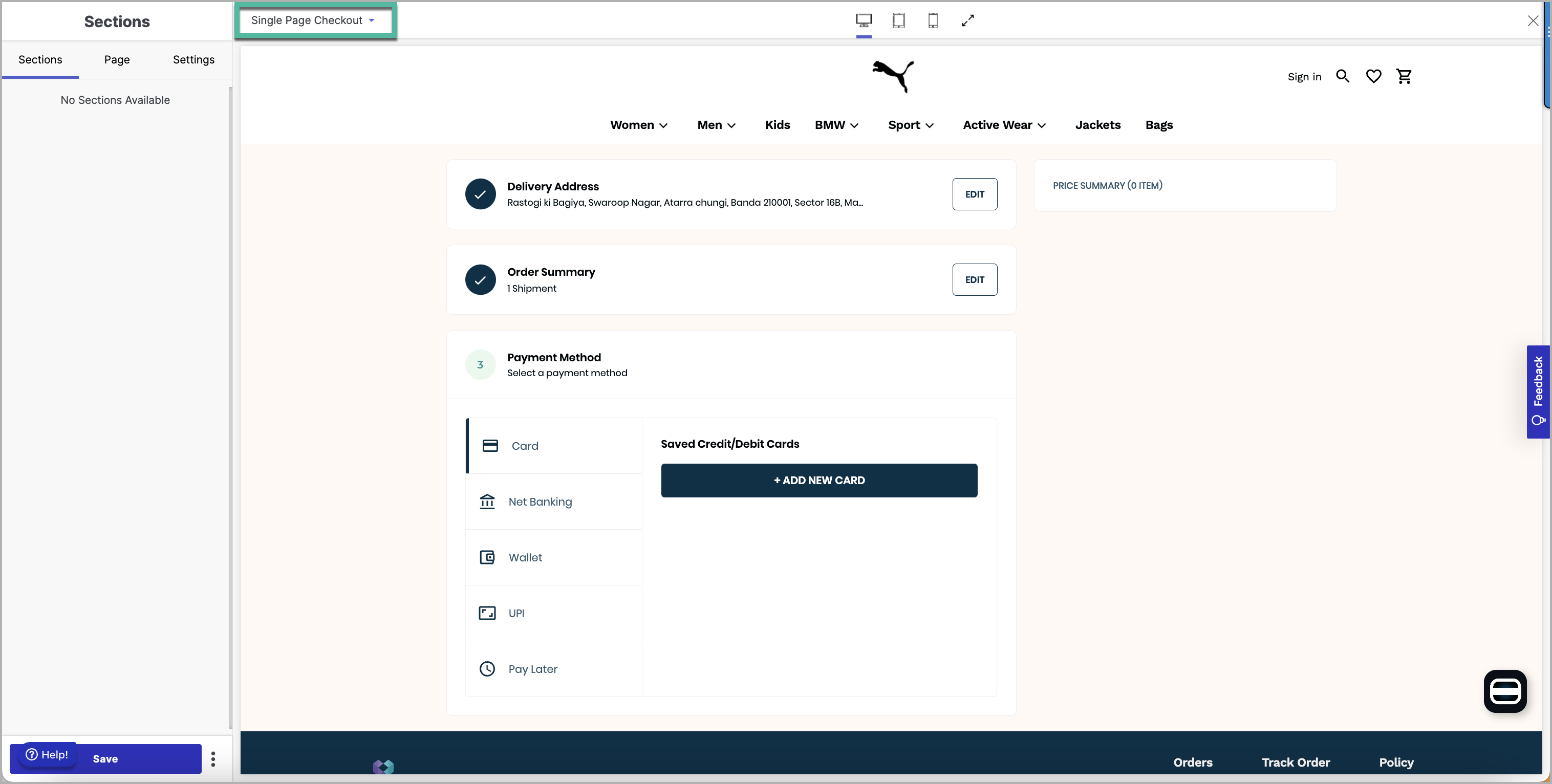 Figure 14: Checkout Page
Click Page in sections.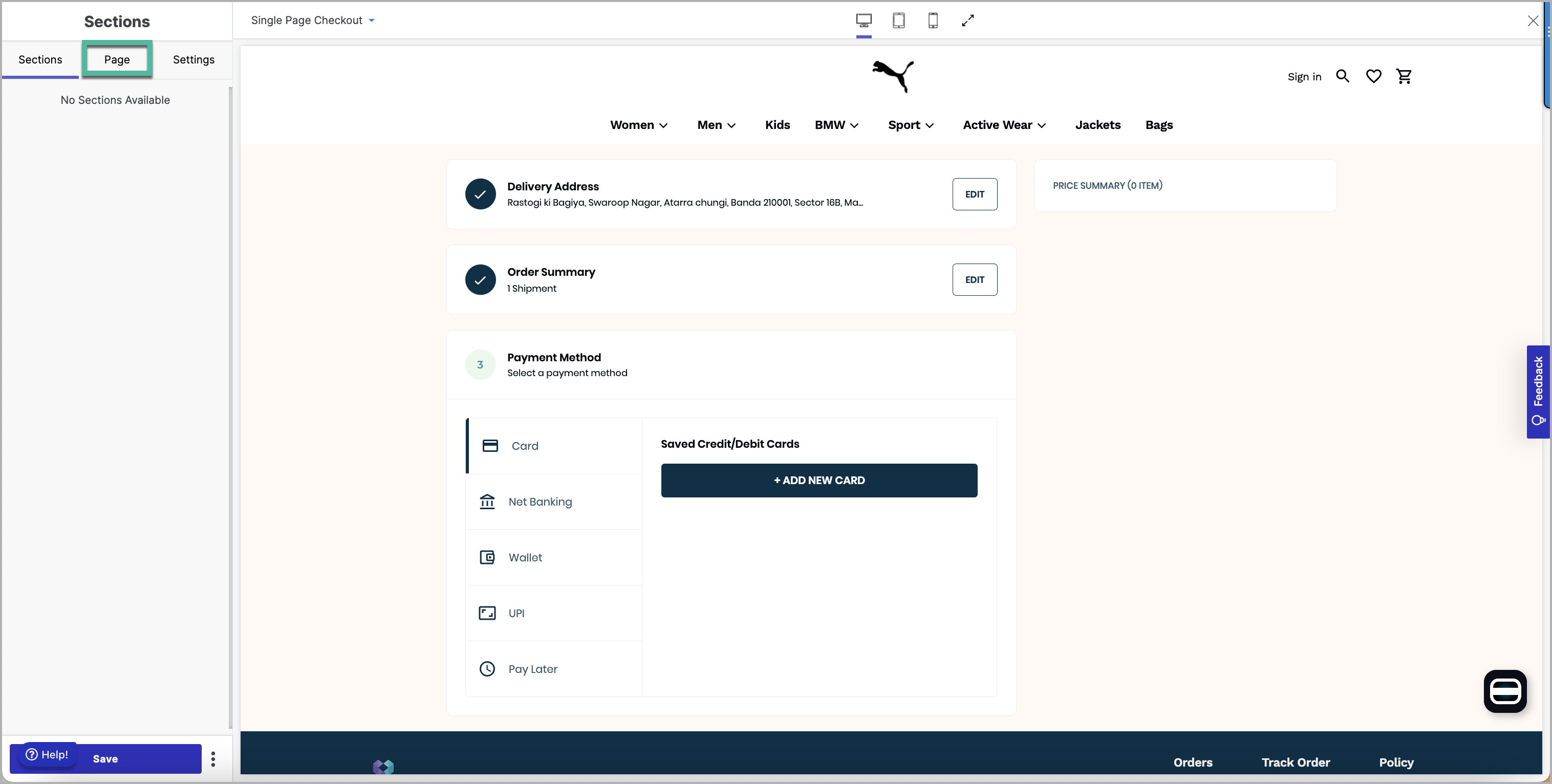 Figure 15: Click Page
Click Add [+] Icon in the Below Payment Options.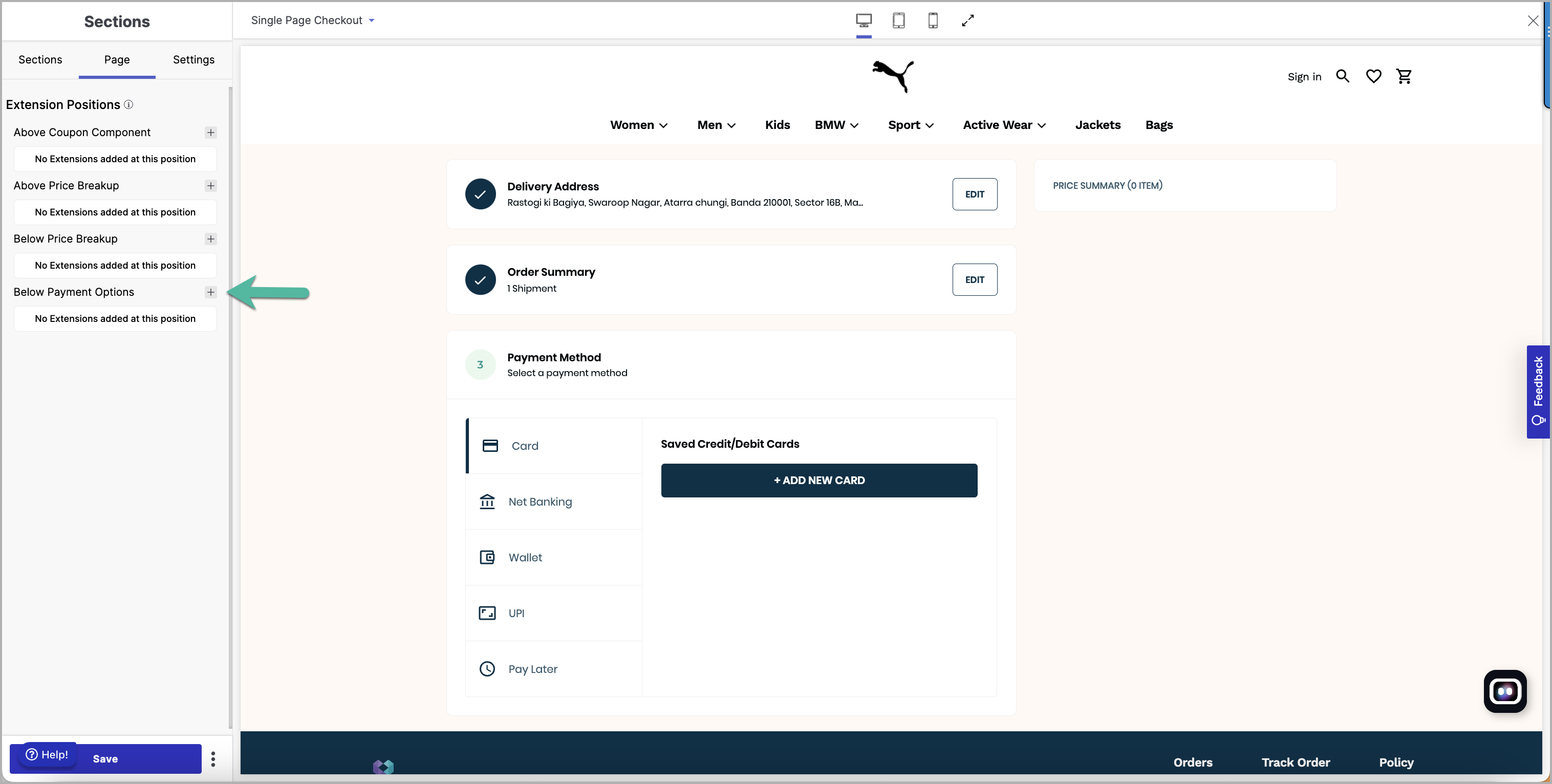 Figure 16: Adding Extension
Select Qwikcilver from the dropdown.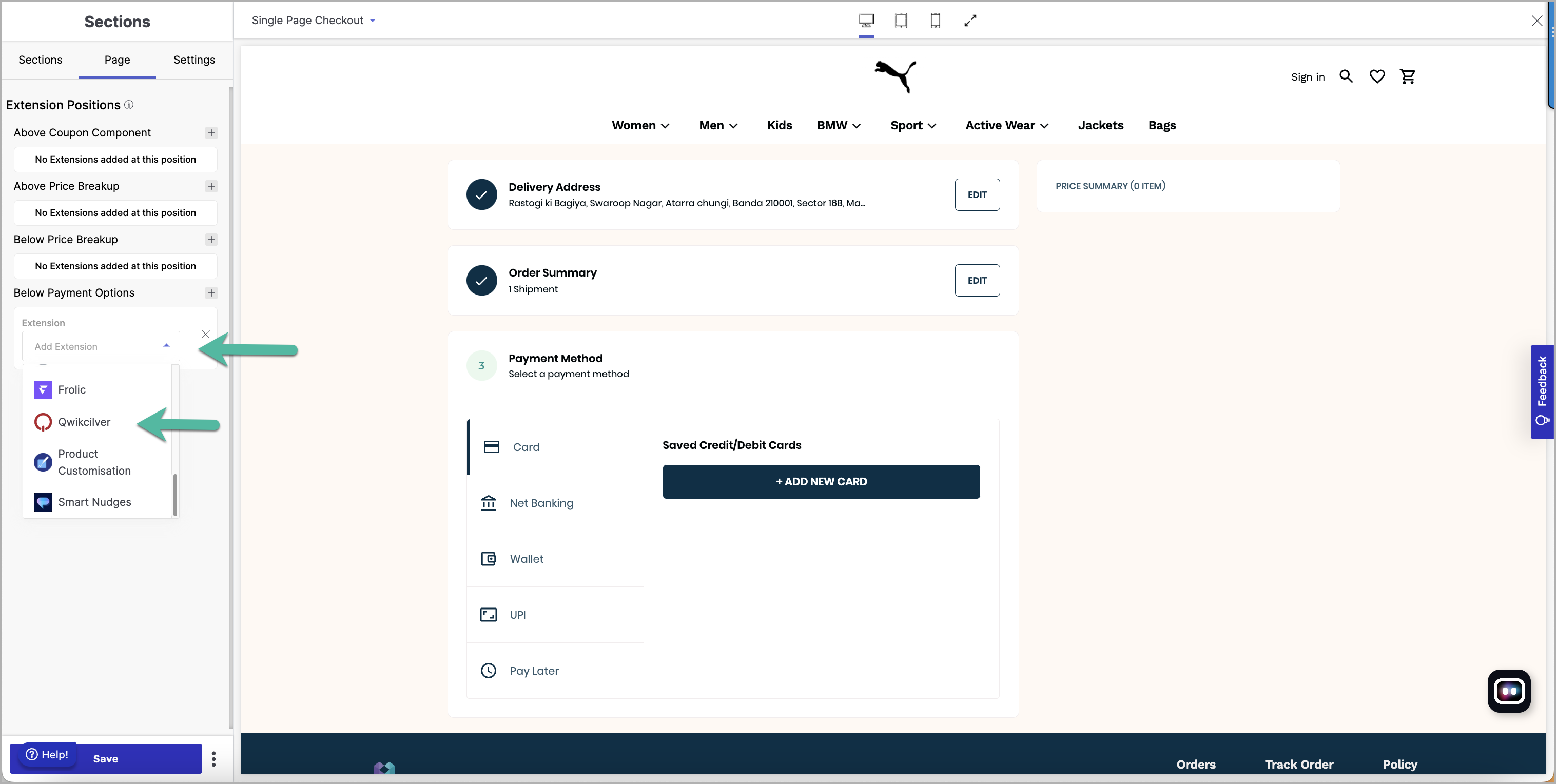 Figure 17: Selecting Qwikcilver
Select Checkout Page in the Wrapper from the dropdown.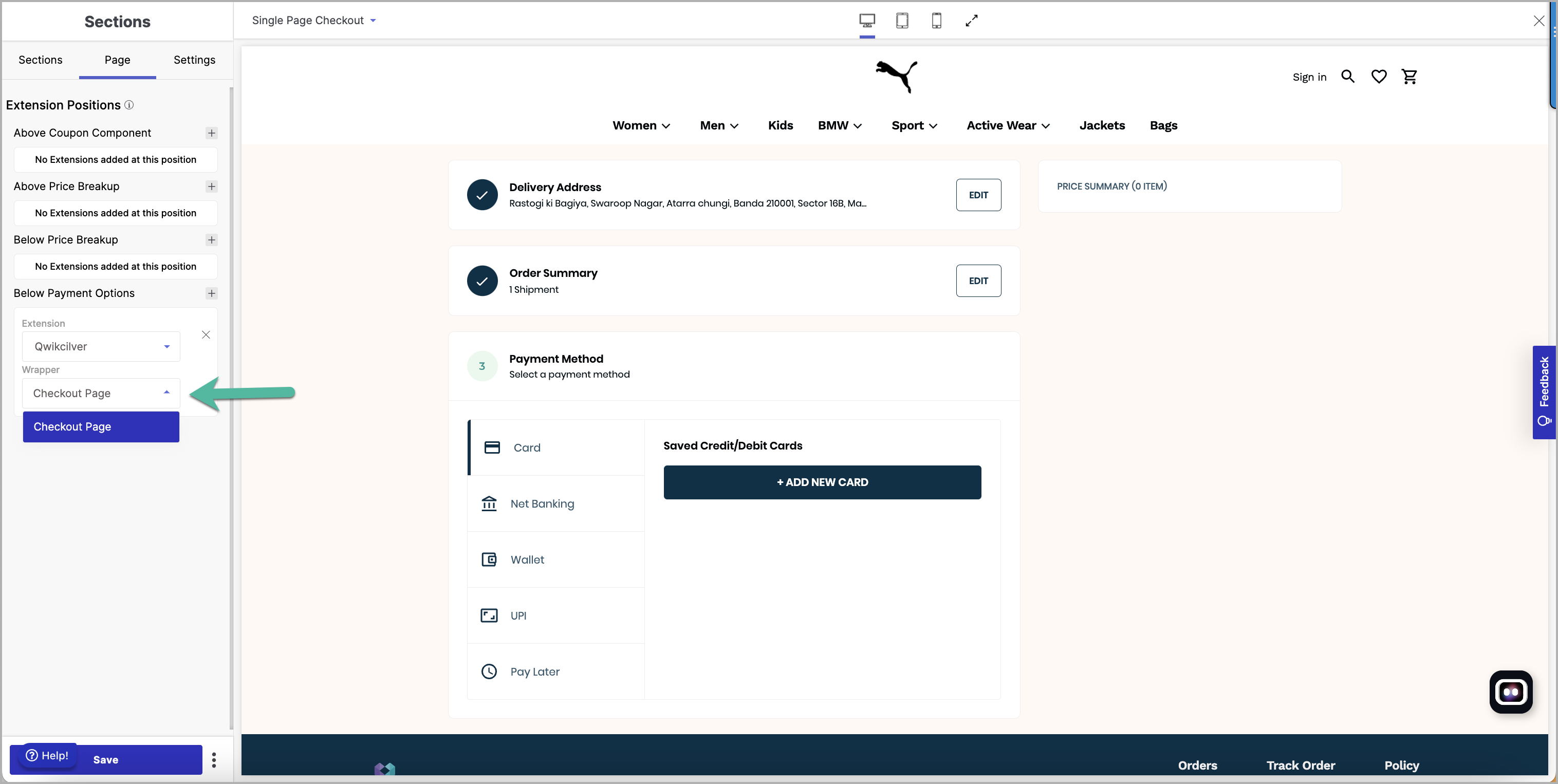 Figure 18: Selecting Checkout Page
Click Save.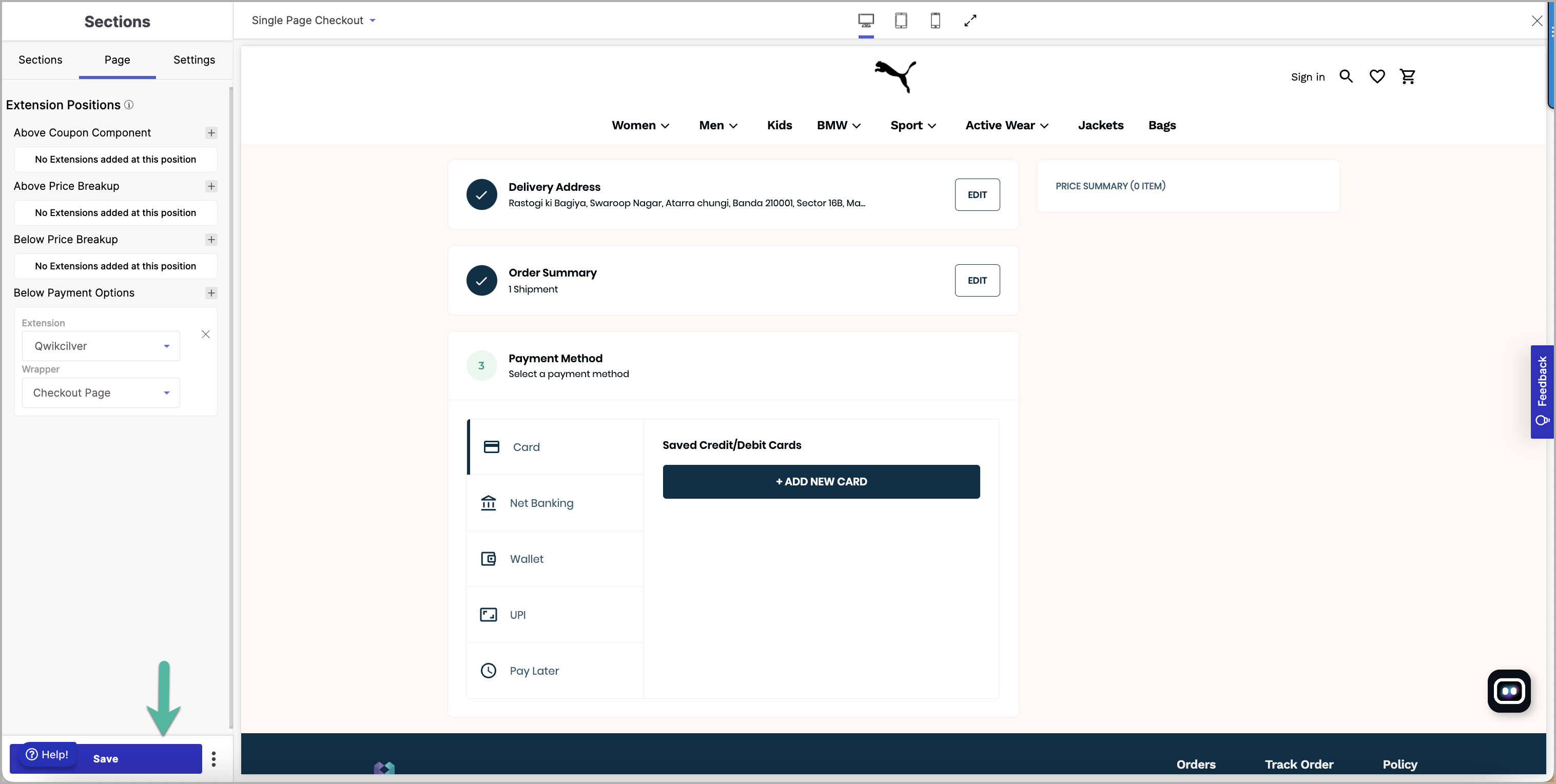 Figure 19a: Click Save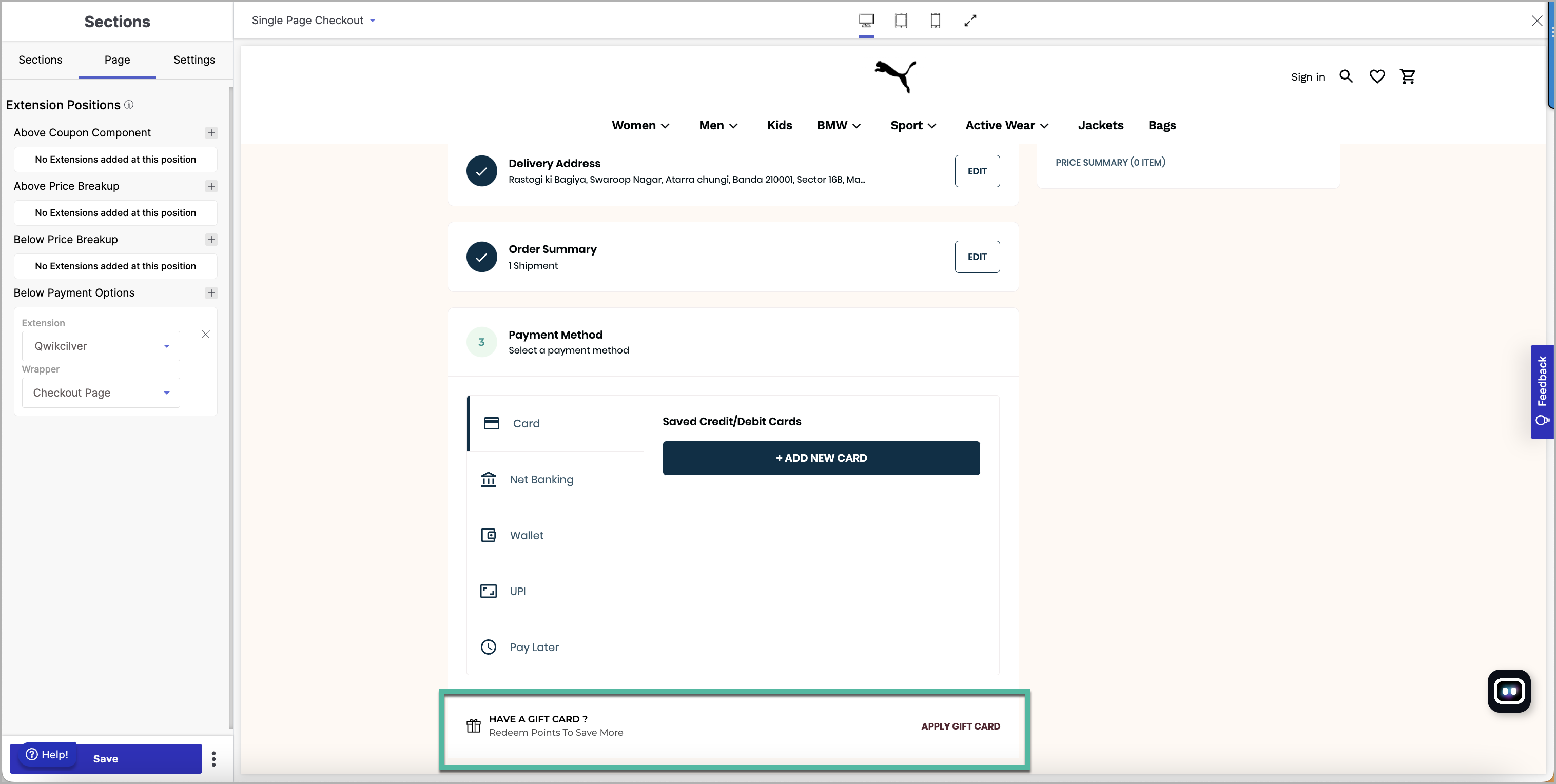 Figure 19b: Extension Added
For Customers
Customers have the option to select APPLY GIFT CARD, where they can input their Card Number and Pin. To check the balance, click Check Balance, and to apply it to their cart, click Apply.
Activating/Deactivating Qwikcilver Extension​
To Activate the Qwikcilver Extension, open the extension, and turn ON the toggle button as shown in the figure below.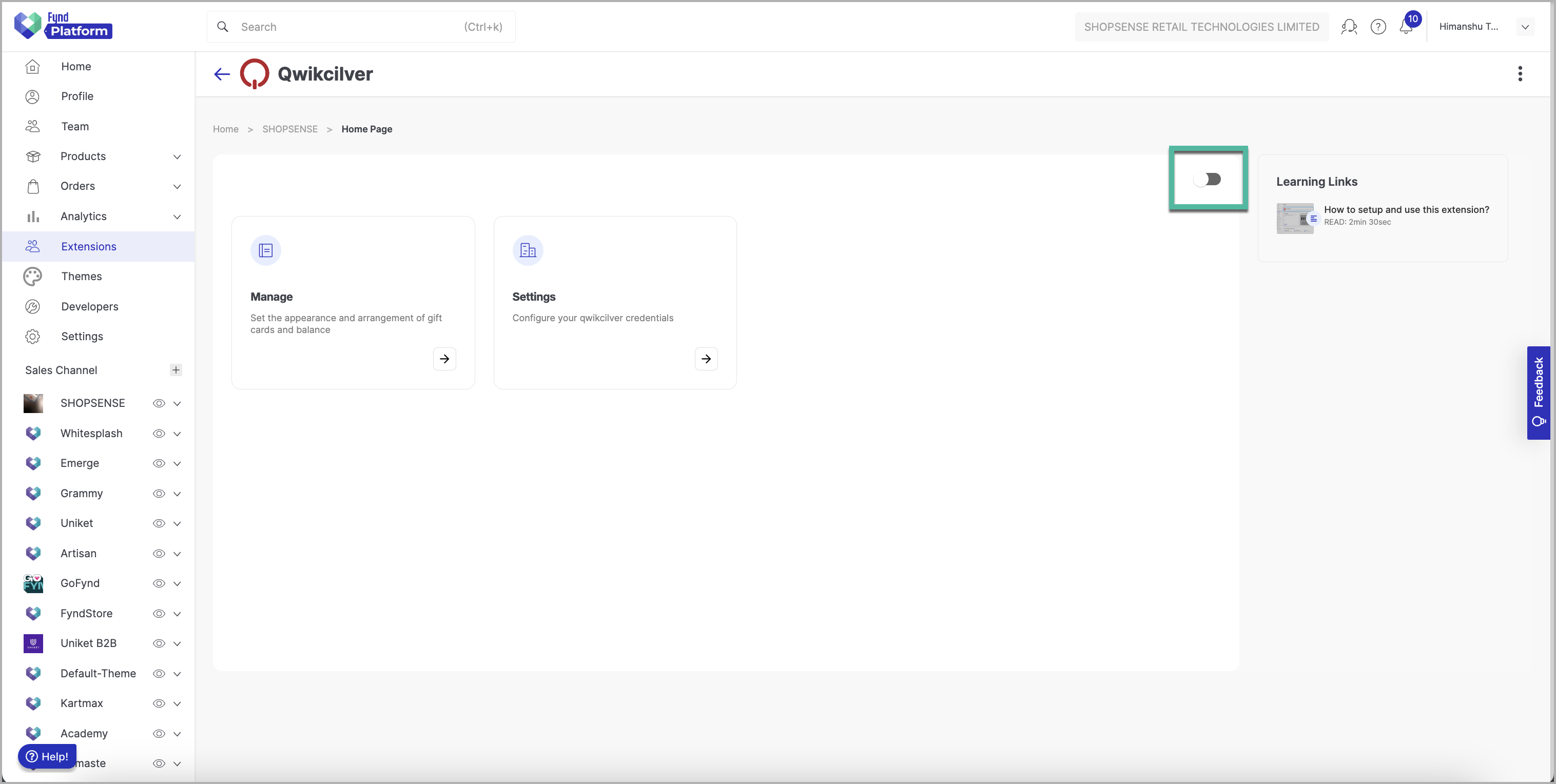 Figure 20: Turning On Extension
To Deactivate the Qwikcilver Extension, turn OFF the same toggle button.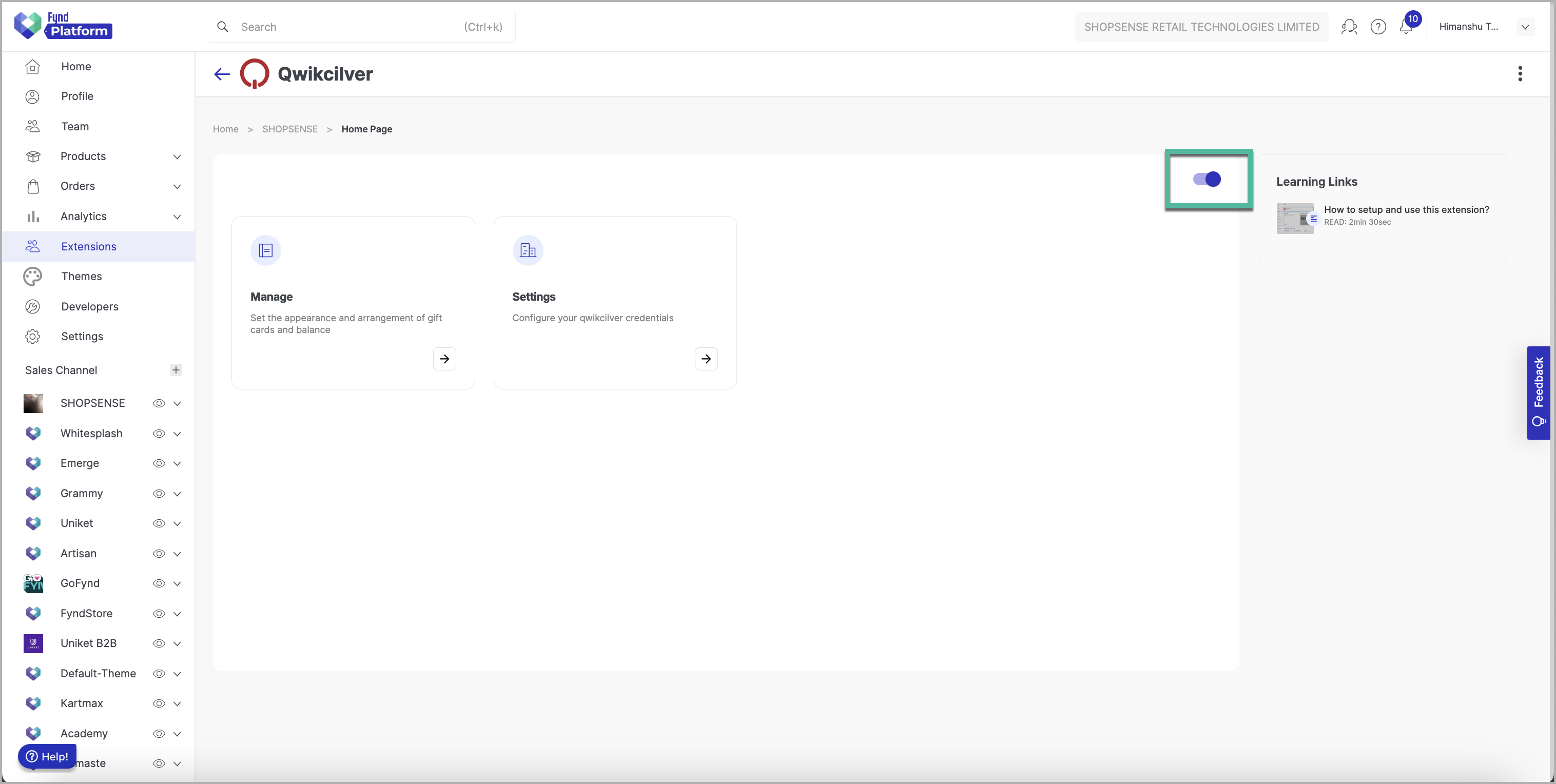 Figure 21: Turning Off Extension
---
Final Output​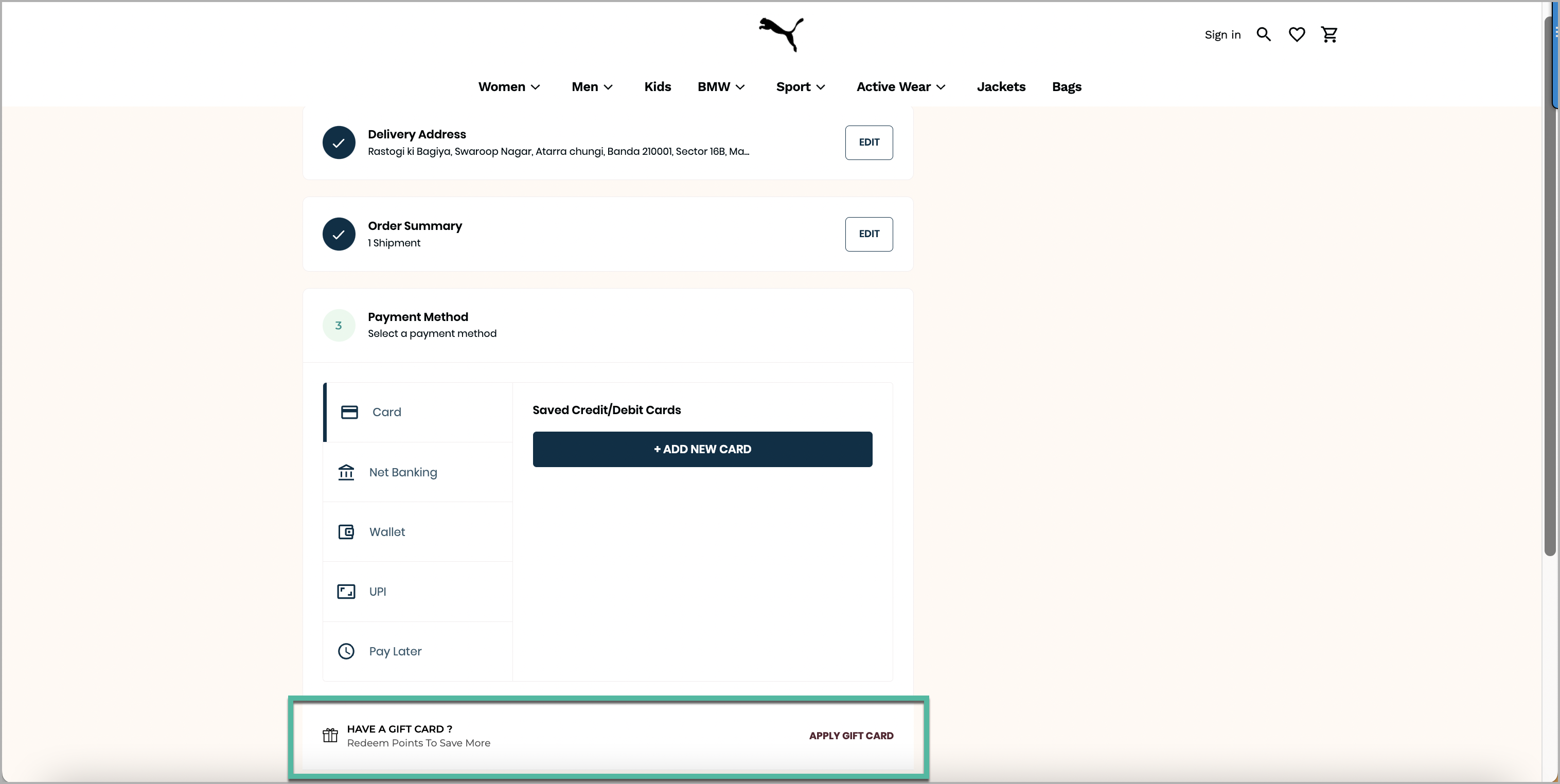 Figure 22a: Extension Added in Storefront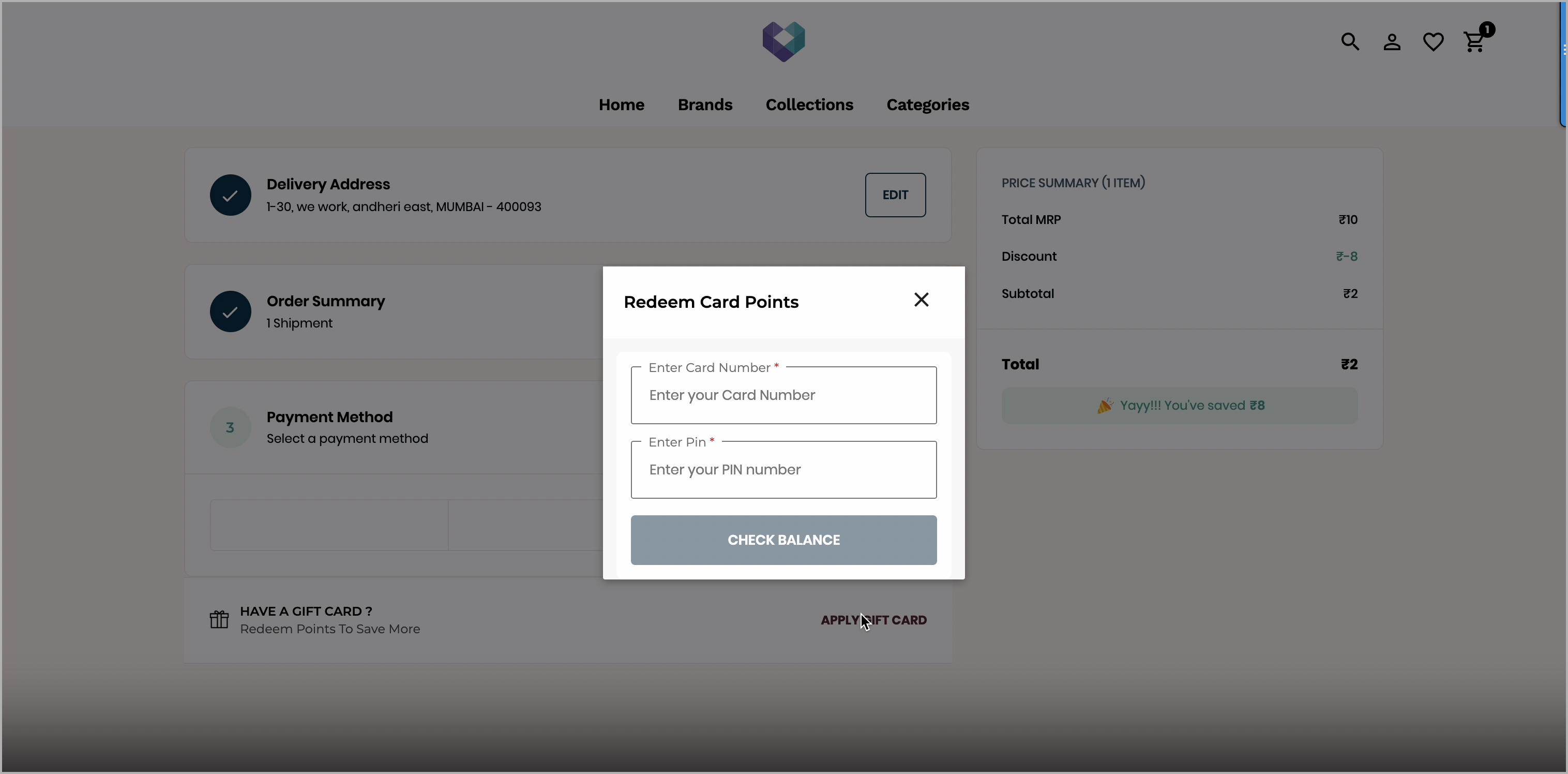 Figure 22b: Check Balance Modal Window